Ceramic Competition & Invitational
The San Angelo Museum of Fine Arts hosts a juried ceramic competition every two years. The competition is open to all artists who are residents of the United States, Canada, and Mexico. All work completed within the last two years, both functional and sculptural, is eligible.
24th San Angelo National Ceramic Competition
April 8 – June 26, 2022
Now taking applications. To view the CALL FOR ENTRIES and apply, click HERE.

Juror: James Watkins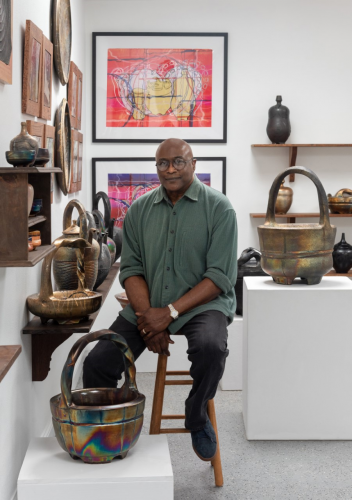 James C. Watkins is a ceramic artist who has worked with clay for over 40 years. His work is held in 23 permanent collections, including the White House Collection of American Crafts at the Clinton Library in Little Rock, Arkansas, the Shigaraki Institute of Ceramic Studies in Shigaraki, Japan, the Renwick Gallery of the Smithsonian Institution in Washington DC, the Everson Museum in Syracuse, New York, the Tweed Museum in Duluth, Minnesota, the Eiteljorg Museum in Indianapolis, Indiana and the Museum of Fine Arts, Houston in Houston, Texas. Watkins' work has been widely exhibited in 44 solo exhibitions and 169 group exhibitions.
Watkins is a Texas Tech University, Horn Distinguished Professor Emeritus. The Horn Professorship is the highest honor Texas Tech University may bestow on members of its faculty. Horn Professorships are granted to professors in recognition of national and international distinction for outstanding research or other creative scholarly achievements.
His awards include the Texas Tech University President's Excellence in Teaching Award and the third recipient of the Art on the Llano Estacada Legacy Award, presented by Texas Tech University Museum Association. He was a 2005 Senior Fulbright Scholar, teaching in Vietnam at the Ho Chi Minh City University of Architecture. Watkins is the 2019 recipient of the HCCC Texas Master Award present by the Houston Center of Contemporary Craft in Houston, Texas.
Watkins is the author of the self-published book, Reflections Made of Memories. He is also the co-author of, Alternative Kilns & Firing Techniques published by Sterling Publishing. Alternative Kilns & Firing Techniques wasco-authored with Paul Andrew Wandless and has been translated into Chinese and German. Watkins is also the co-author of Architectural Delineation: Presentation Techniques and Projects published by Kendall Hunt Publishing, co-authored with James T. Davis. His work is the subject of a book entitled A Meditation of Fire: The Art of James C. Watkins by Kippra D. Hopper published by Texas Tech University Press. Watkins has written numerous articles for national and international magazines, including Ceramics Monthly, Studio Potter, New Ceramics: The European Ceramics Magazine, and China Ceramic Artist. He received his BFA from the Kansas City Art Institute and MFA from Indiana University.
Website: www.jcwclayworks.com

Invited Artist: Andrea Gill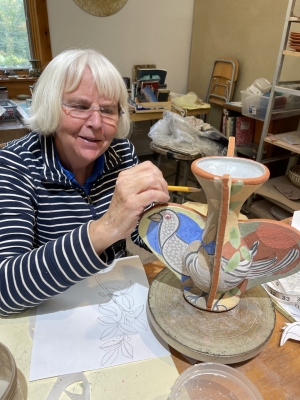 Andrea Gill began her ceramic art career in 1971 as an apprentice to a local potter in Cape Cod MA. She had just graduated from Rhode Island School of Design with a BFA in Painting, and continued her ceramics education at Kansas City Art Institute. There she met her husband, John Gill, and later joined him in Alfred, NY entering the ceramics MFA program in 1974. They went on to share a residency at the Archie Bray Foundation. For the next five years, Andrea Gill exhibited her work around the world. In 1984, they returned to Alfred, NY to share a teaching position. She continued to exhibit her work in galleries and museum exhibitions, including solo shows in New York, Philadelphia and most recently in Aspen, CO. She retired from teaching in 2016 and has continued making and exhibiting her work. Gill's work is in the collections of the Victoria and Albert Museum in London, the Los Angeles Museum of Contemporary Art, Renwick Gallery of the Smithsonian Institute and other public and private collections. She has received numerous grants including from NEA Individual Artist Grants, and NYFA Grants. She was awarded fellowships from the Louis Comfort Tiffany Foundation Fellowship, and the Archie Bray foundation, and the American Craft Council. In 2019 she received the Distinguished Educator Award from the Renwick Alliance. She is a member of the International Academy of Ceramics.
Schedule of Events • April 2022
More info soon
The learn more about Past Ceramic Competitions click HERE.