San Angelo Gives
As a non-profit organization, the San Angelo Museum of Fine Arts relies on our community for financial support, please remember us during this year's San Angelo Gives Fundraiser on May 4th and your donation will be amplified!
SAMFA wants you to know we are GIVING BACK to those who donate during San Angelo gives on May 4th, 2021. $10 donations will receive a FREE membership to the museum & $20+ donations will receive a FREE FAMILY Membership.
This year, all people who have a Family Membership will receive early access to summer camp registration!
More information on registration dates coming soon!

Museum Membership also Includes: Free Admission to the Museum, Invitations to our events and exhibit openings,
10% off Museum Gift Shop, and more!

www.sanangelogives.org/samfamuseum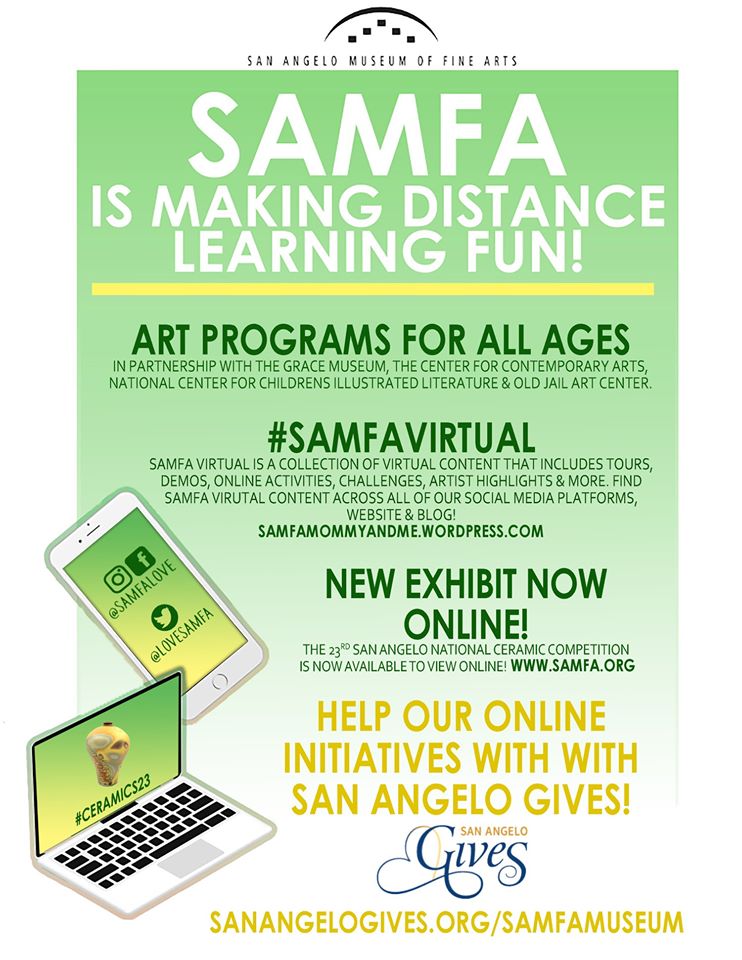 Your support helps us provide the community with innovative programs, exhibits, and will help the Museum continue making distance learning possible!

San Angelo Gives helps connects community compassion with community action! Our region is resilient and you can show just how strong we are by supporting your favorite charities on May 4th or give a gift in advance today!


About San Angelo Gives
San Angelo Gives is a powerful 24-hour, online giving event that connects the Concho Valley with community nonprofits to reinforce the value of both local philanthropic giving and community engagement. LOCAL nonprofits' involvement in the event will give members of our community the chance to find and support an organization whose mission aligns with their passion.
In 2019, donors from all corners of the region generated more than 7,501 gifts and pumped more than $2.2 million into supporting local organizations that provide needed services and tack difficult challenges.
Since 2015, more than $7 million has been raised through San Angelo Gives helping to raise awareness, ignite giving, and provide everyone the opportunity to become a philanthropist building a vibrant and thriving community!


How does the pro-rated match work: Donations made during San Angelo Gives will be amplified by local matching funds and will be distributed to participating nonprofits based on donations received, encouraging donors to make a gift on this particular day.

About the San Angelo Area Foundation: Established in 2002, the San Angelo Area Foundation offers a great way for donors to make charitable gifts while retaining the highest possible amount of flexibility and effectiveness. Serving San Angelo and surrounding counties, the Foundation supports our community by:
• Encouraging long-term, local philanthropy
• Assessing and responding to community needs
• Providing flexibility and efficiency for donors with varied interests and giving capacities
• Serving as a resource and a catalyst for other organizations
Why donate to SAMFA?
SAMFA is a unique entity in the Concho Valley, providing programs for children that combine art, science and local history. Innovative programs encourage students to engage with the outdoors and the community through the creative process.
Your support and our open studio model offers toddler to retirees the opportunity to make art together. Come to the museum to paint, explore our collections, sculpt and create beautiful artworks.