Family Day
Join us every 2nd Saturday for VIRTUAL Family Day content on our social media, as well as FREE Art Kits available for pick up via drive through (10am-12pm on the day of) or in the Gift Shop while supplies last.
September:
September's Family Day will be a little different!
We are partnering with the San Angelo Hispanic Heritage Museum and Cultural Center for this incredible free 2 day event with live music, vendors, food trucks, free family activities and more, all to honor Hispanic Heritage Month!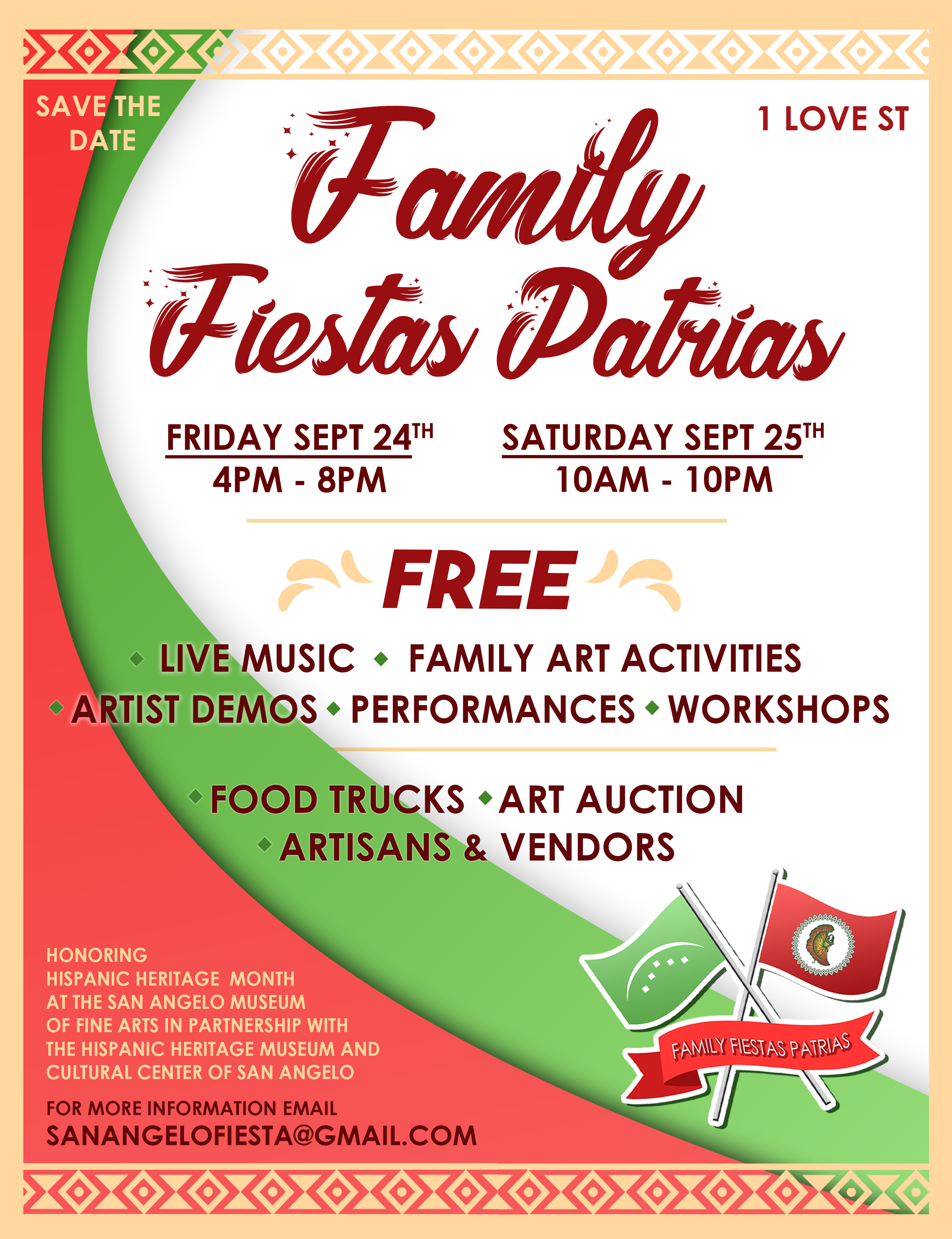 Hispanic Heritage Month:
September 15 to October 15 is National Hispanic American Heritage Month,
celebrating the histories, cultures and contributions of American citizens whose ancestors came from Spain, Mexico, the Caribbean and Central and South America.
What is "Grito De Dolores"?
In the early nineteenth century Mexico was governed by Spain. Seeking the opportunity for revolt Father Miguel Hidalgo rallied troops in Dolores. When the Spaniards found out about Father Hidalgo's revolt they ordered his arrest. Hearing this news, Father Hidalgo rang the church bell calling the congregation to mass and rallying them to fight.
Father Hidalgo's speech to rally his congregation, now known as "Grito de Dolores" is reenacted every September 16th in remembrance of the brave people that fought and died for Independence.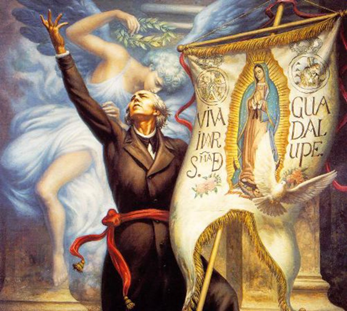 SAMFA's Spanish Colonial Collection:
One of the main areas of SAMFA's pemanent collection is comprised of Spanish Colonial artwork. You can see some our artworks and read about them here. Historical Santos and Retablos in our Spanich Colonial colletion tell stories of Saints and Catholic firgures.
How do you tell a story with a painting or a sculpture?
First, we need to know how to "read" a Retablo. How does one picture tell a story? As we look at one of these paintings, we see a large amount of symbolism. This comes with the Attributes. Attributes are the things that these figures are wearing and holding that let you know exactly who these people were. This can be anything from the color of clothes they are wearing, if they are holding a certain kind of flower, or even their haircut.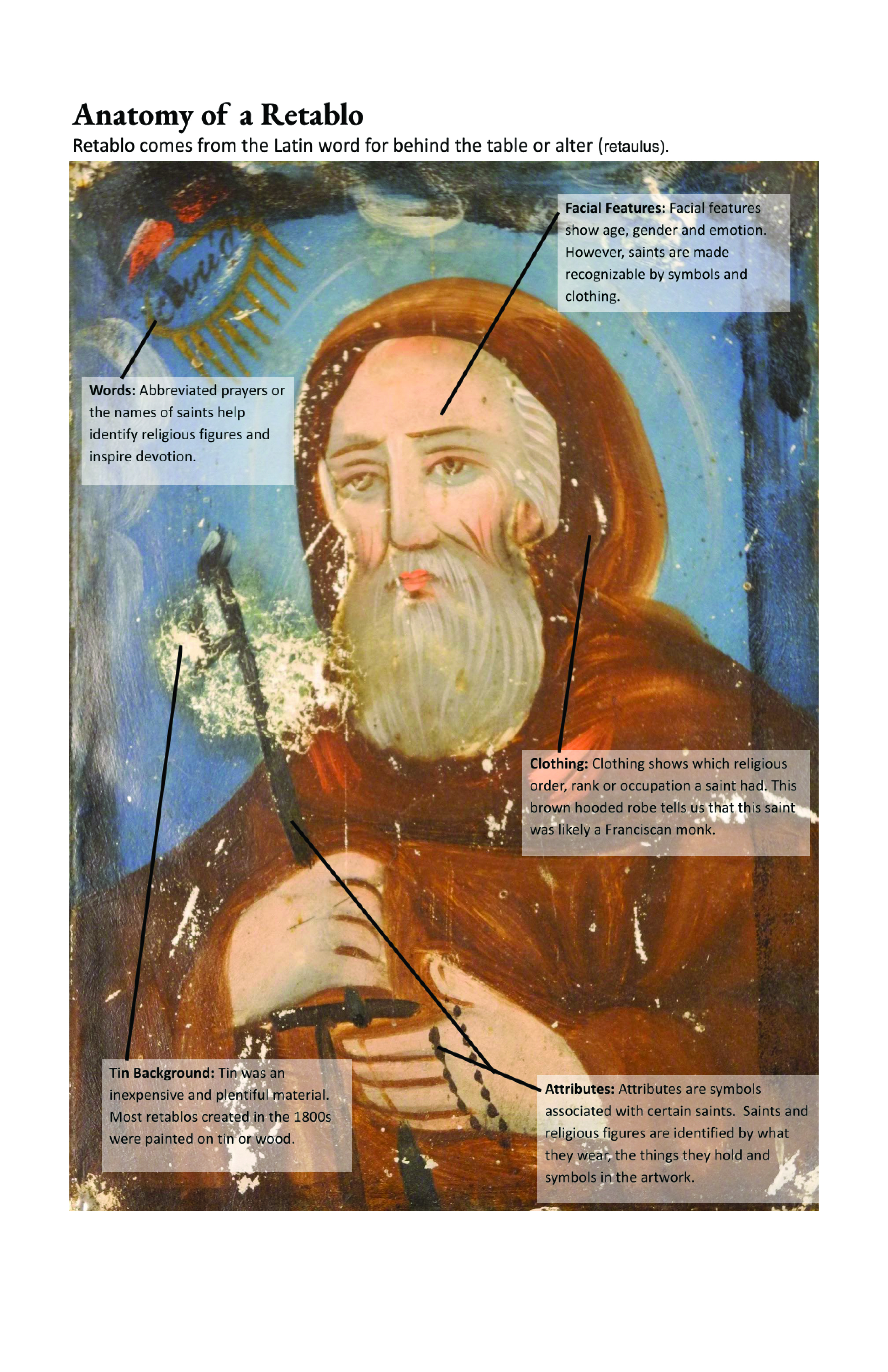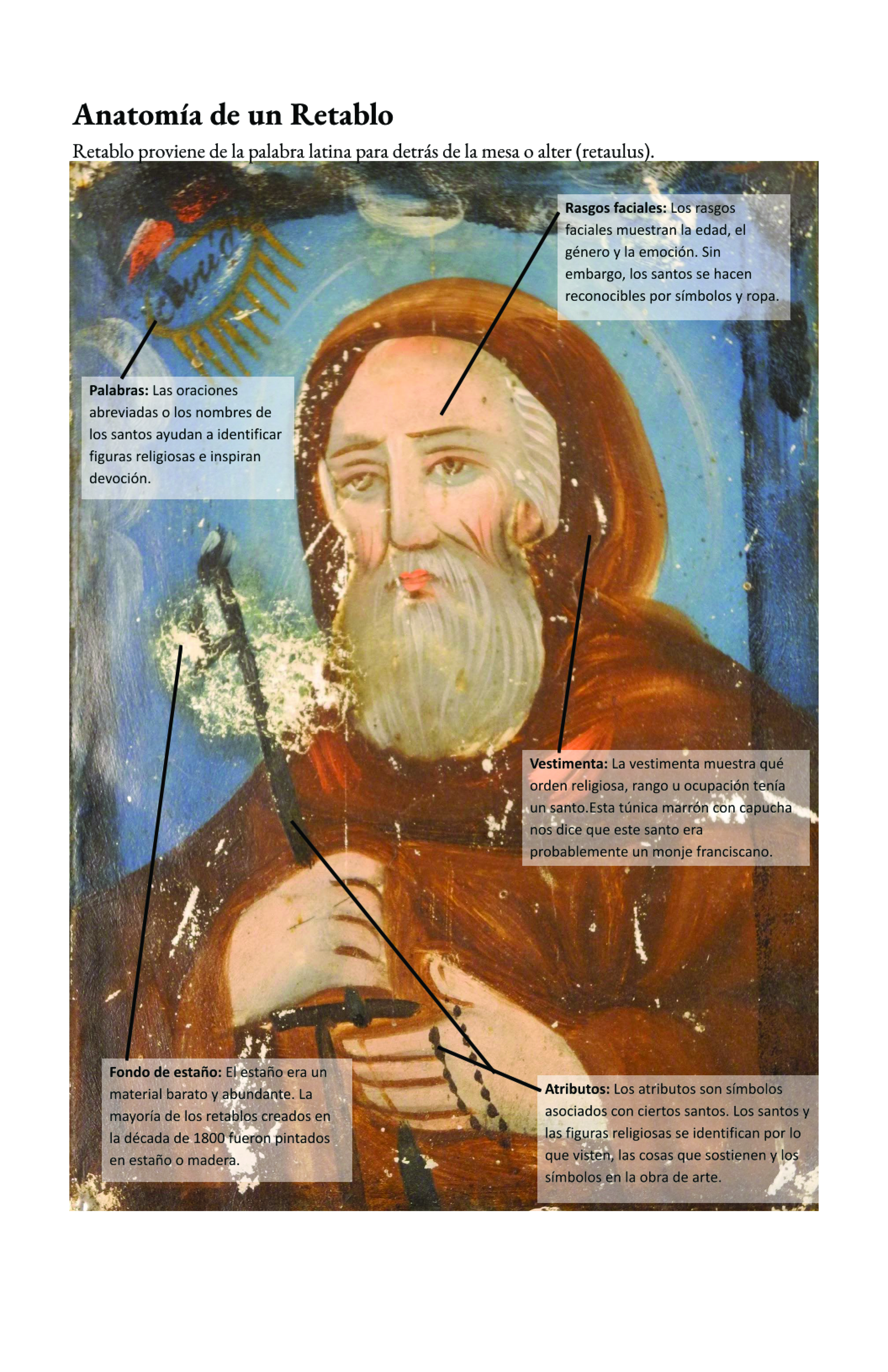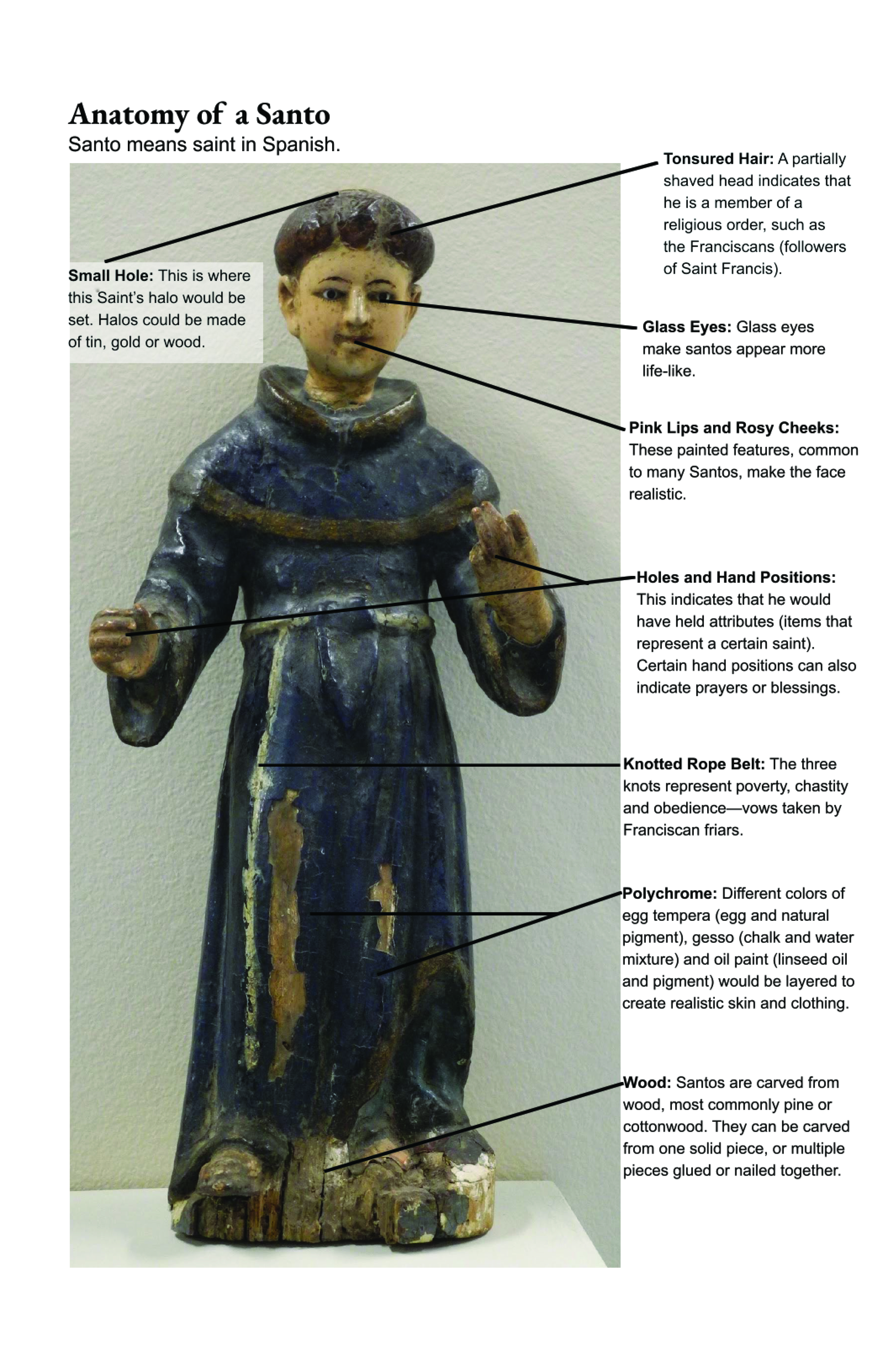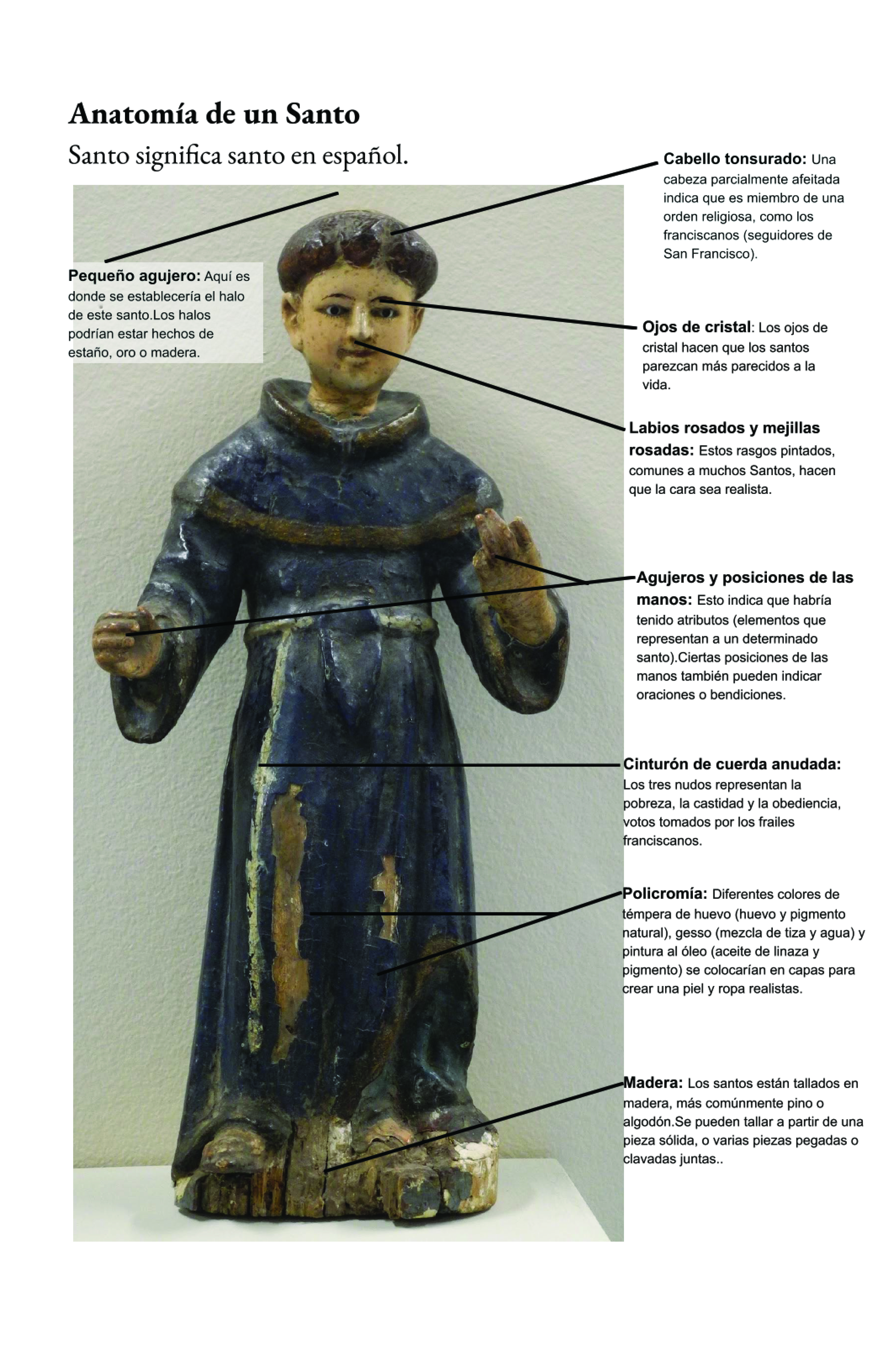 Now that you know how to read a retable and santo, Here are a few more examples of the iconography in Spanish Colonial Art: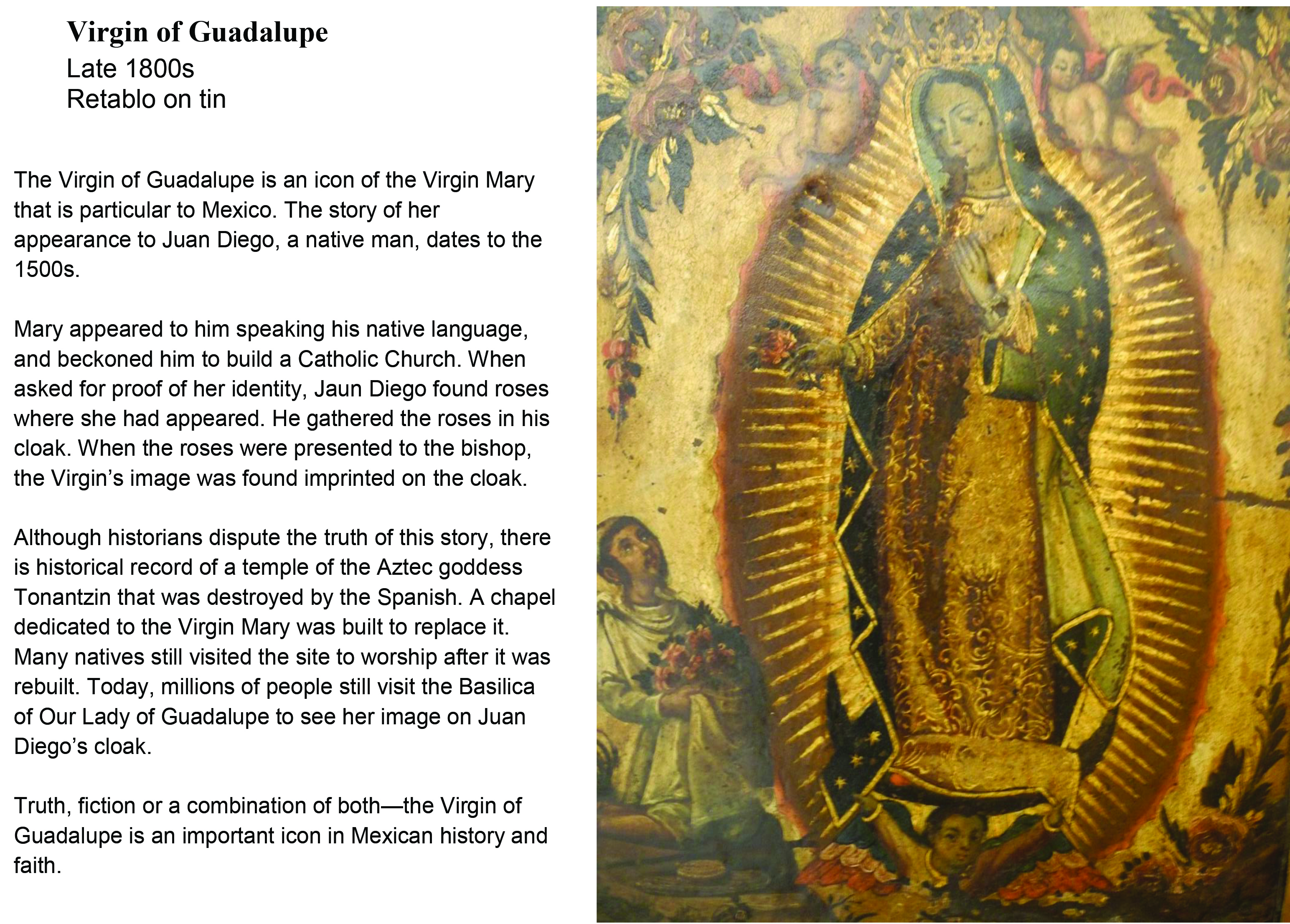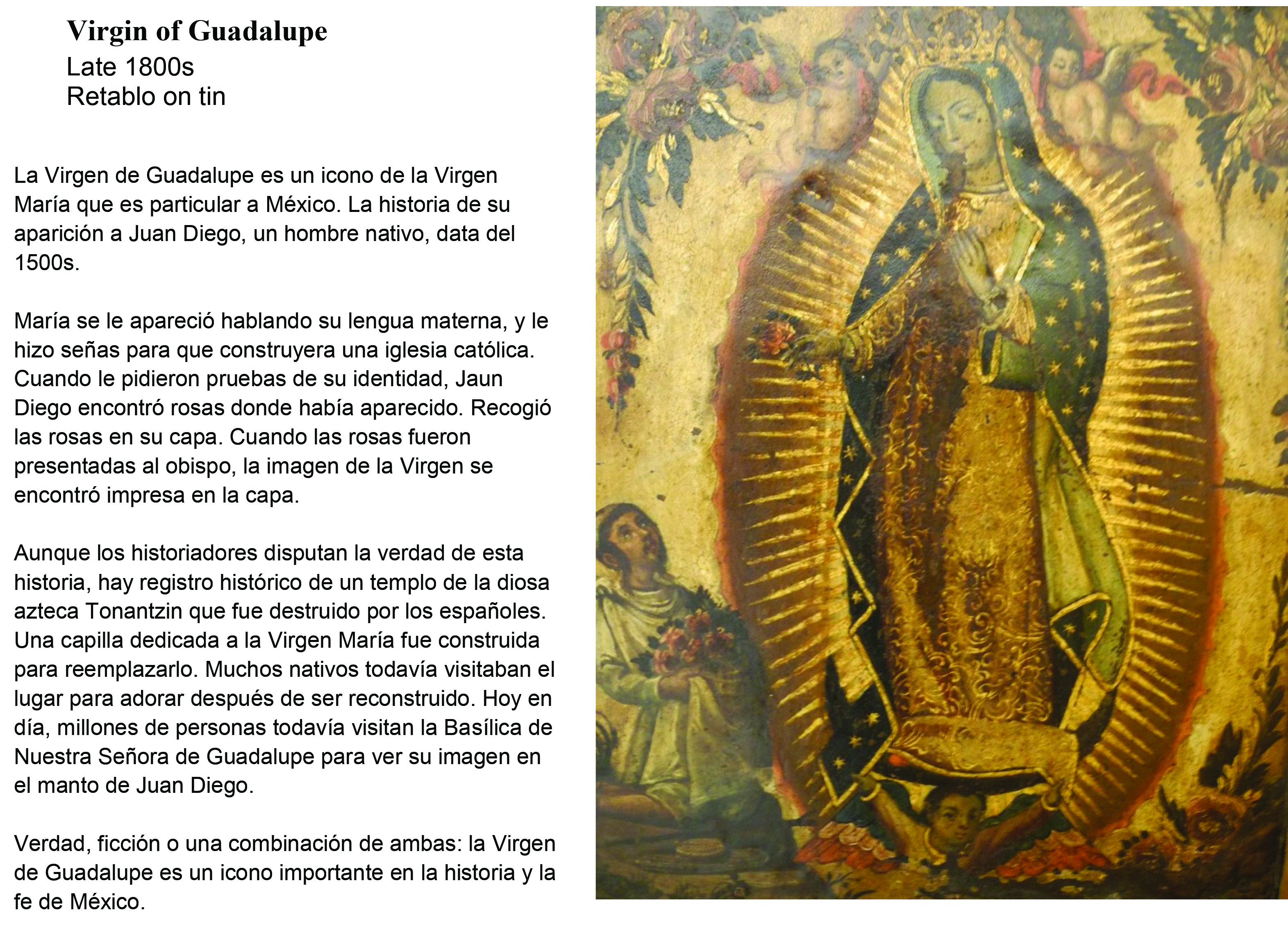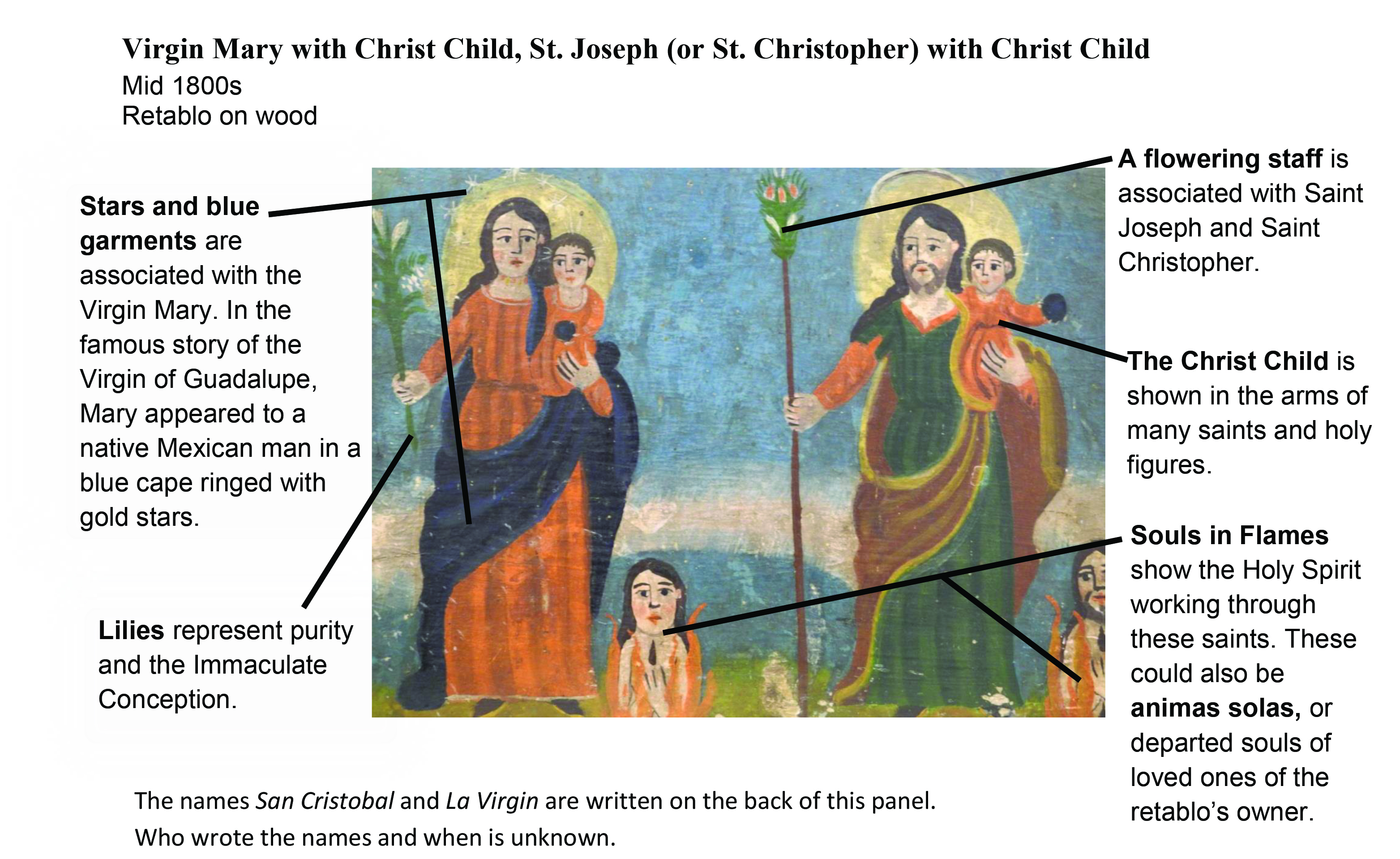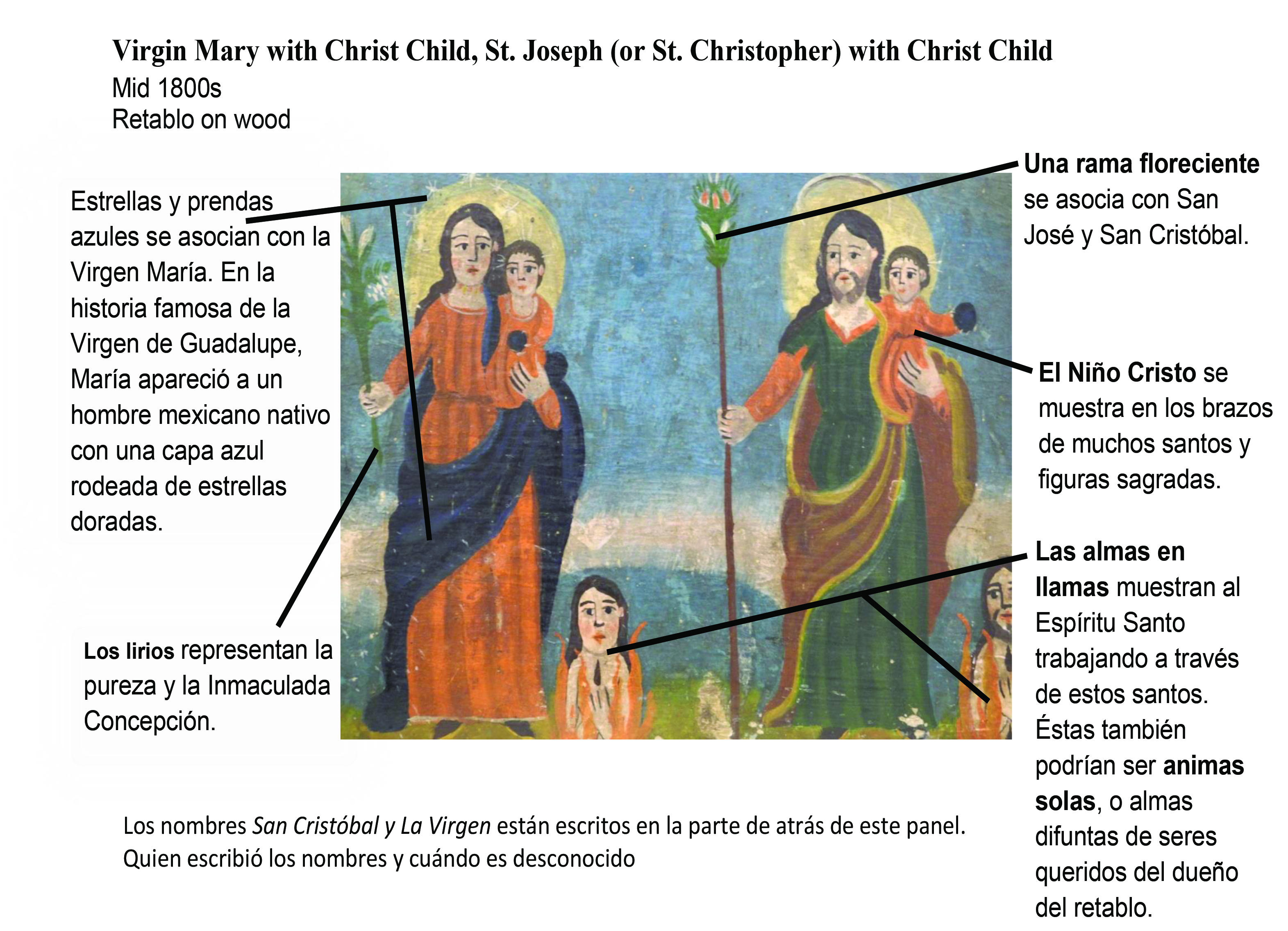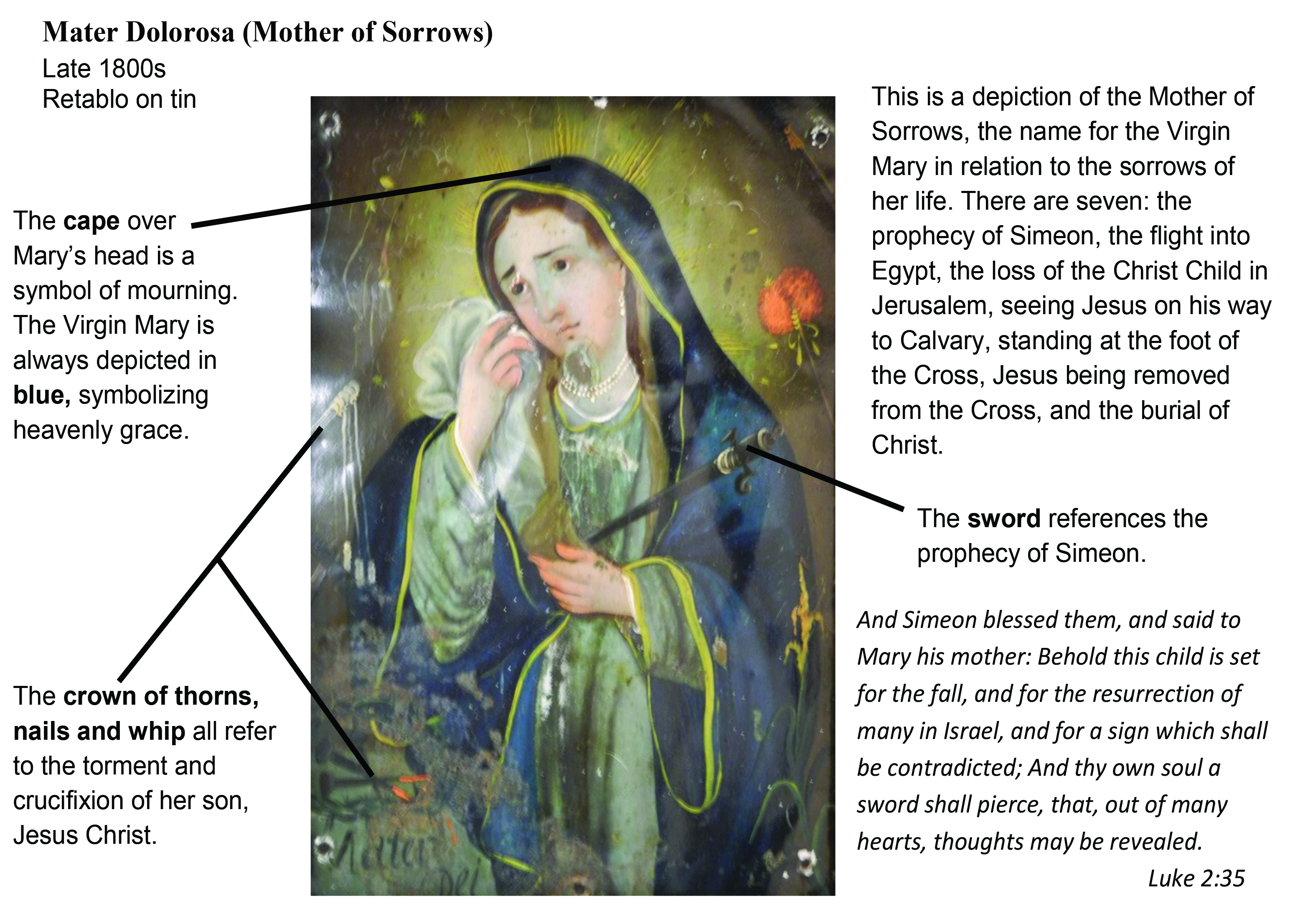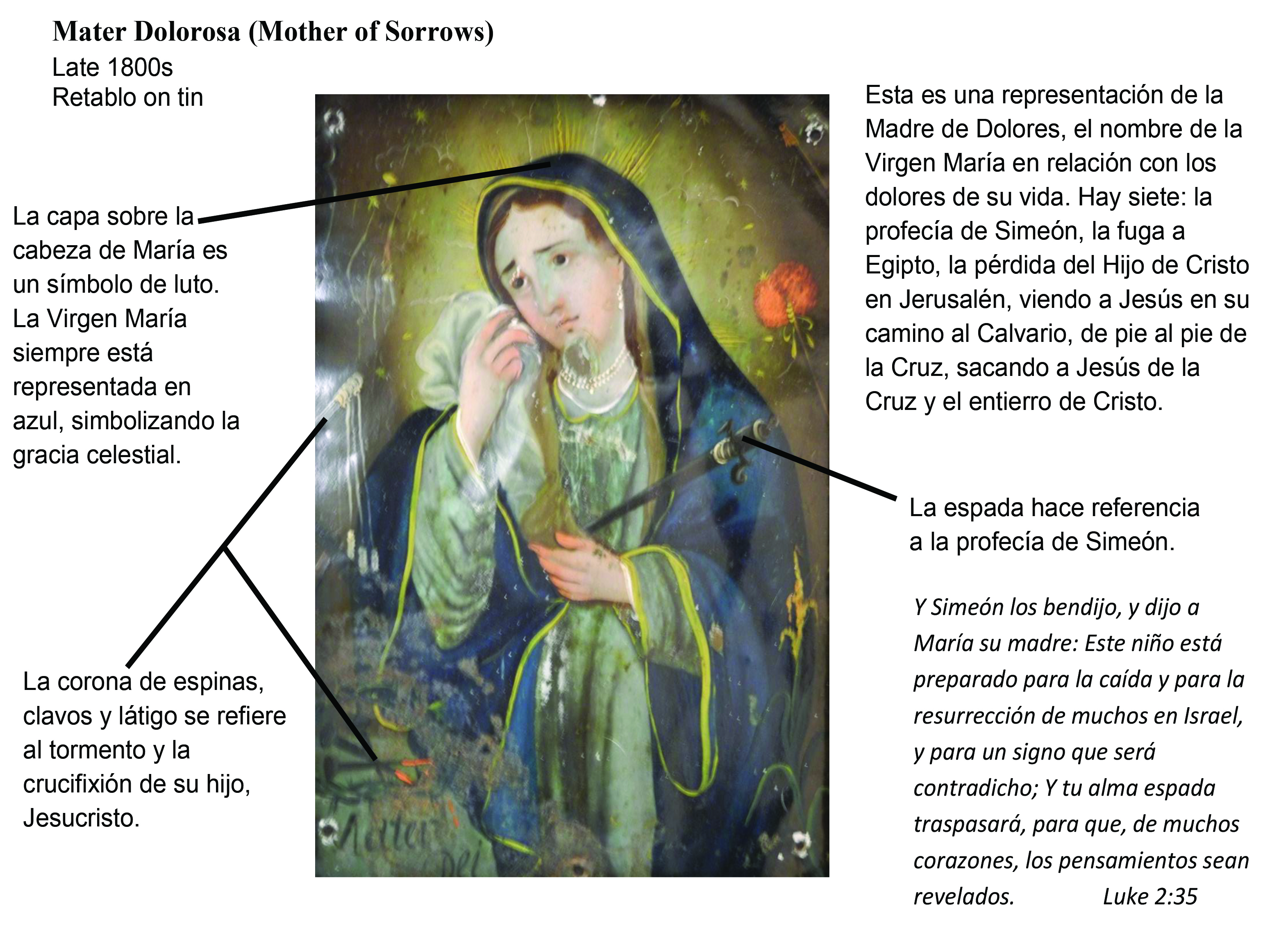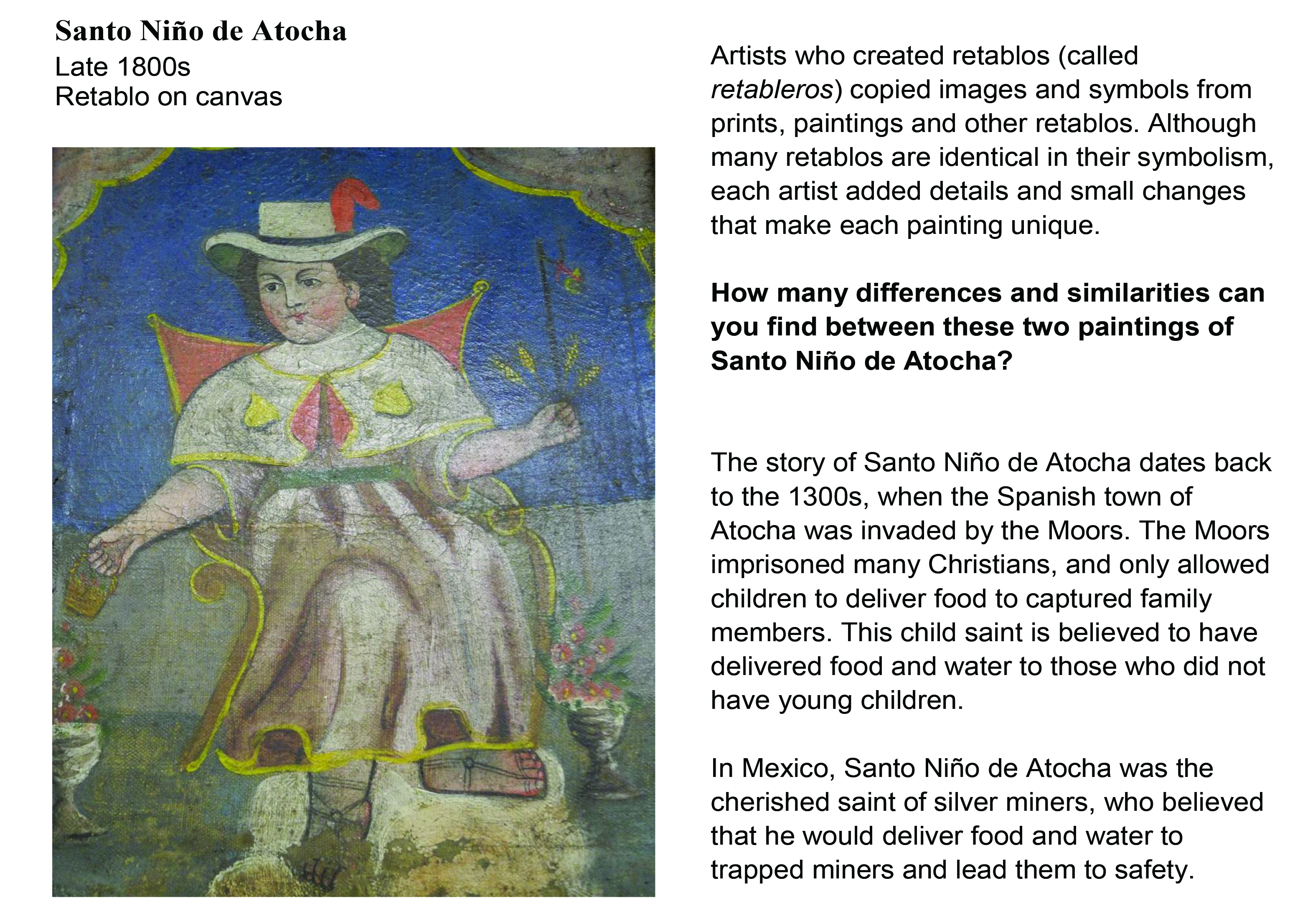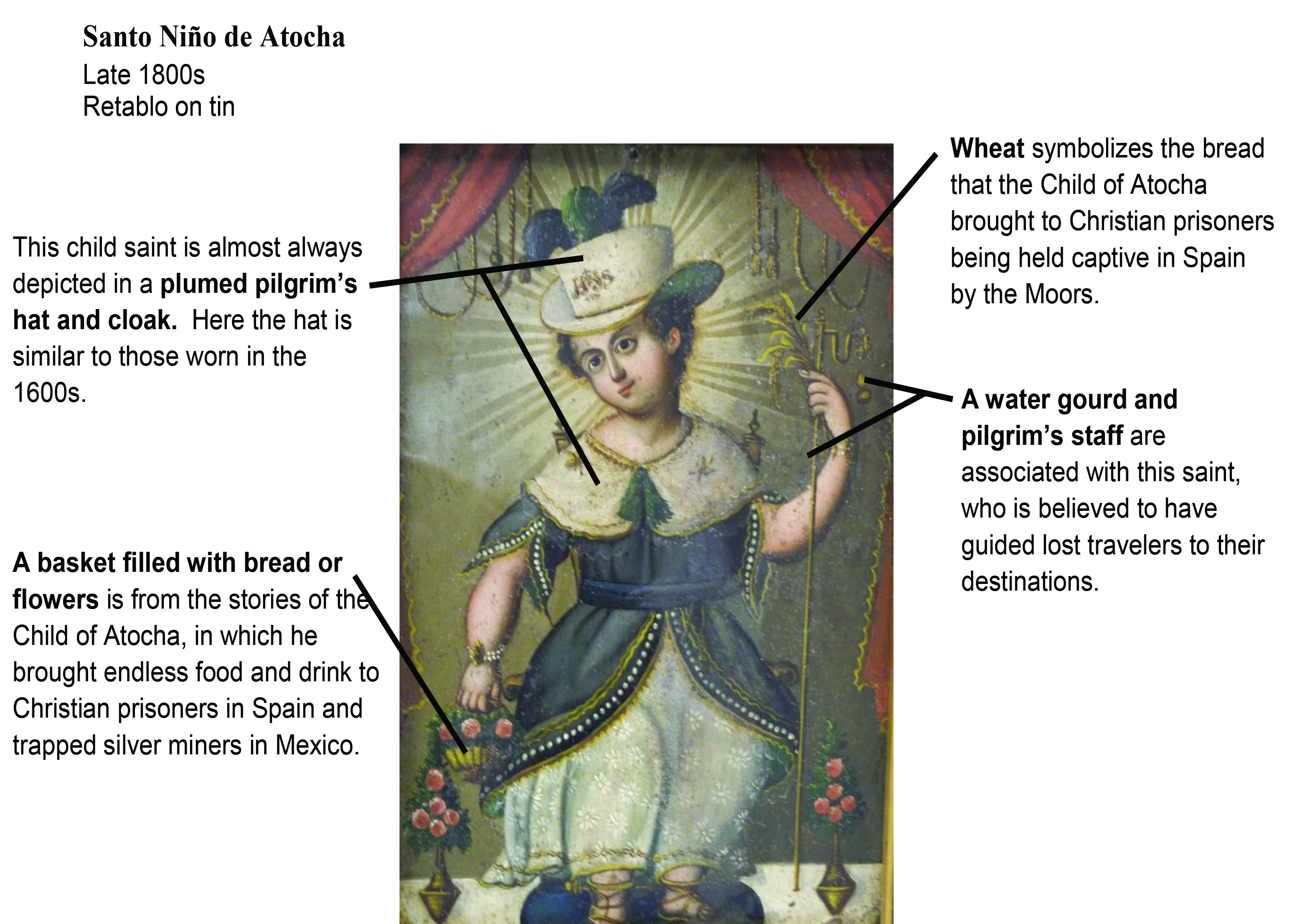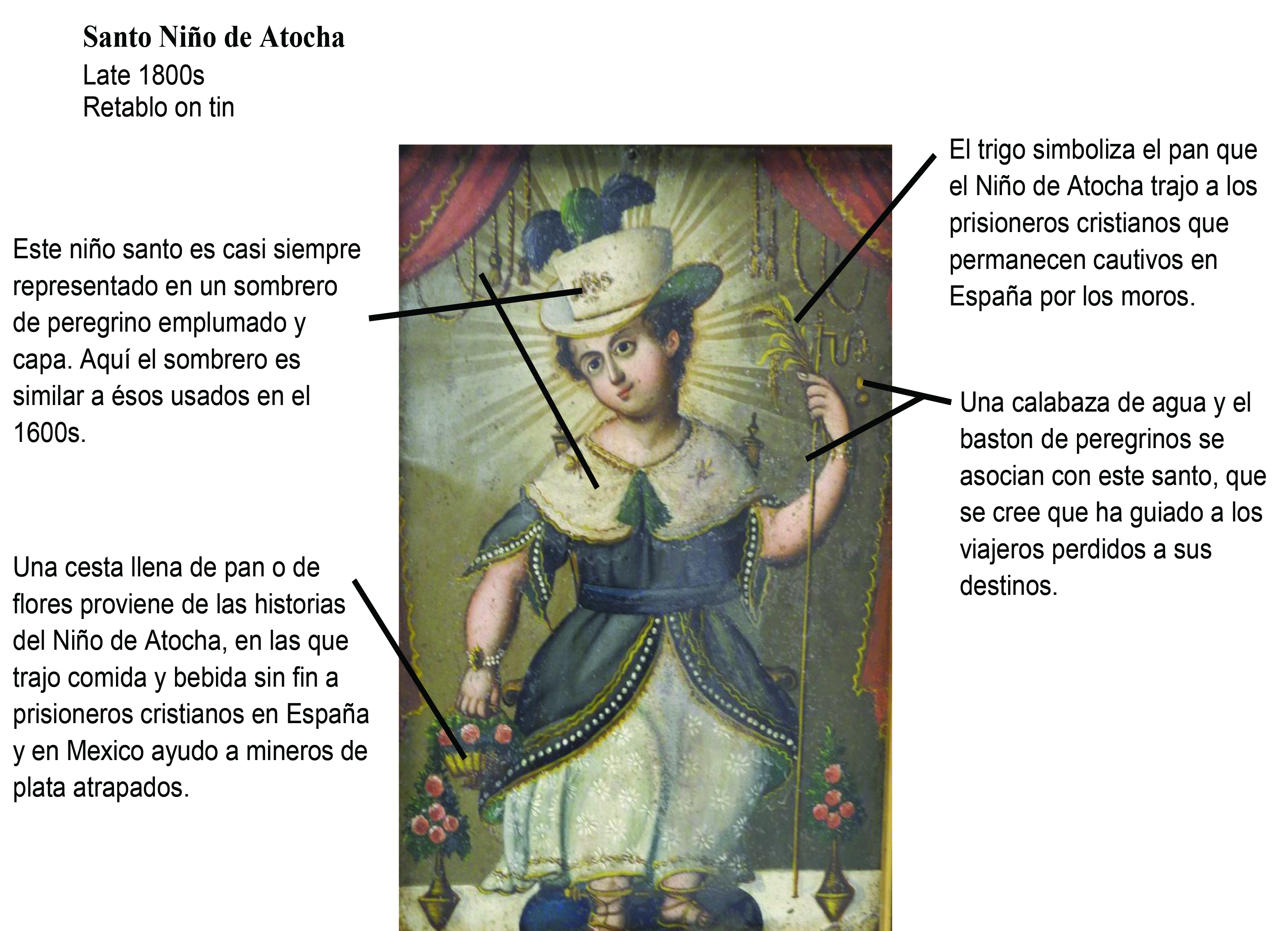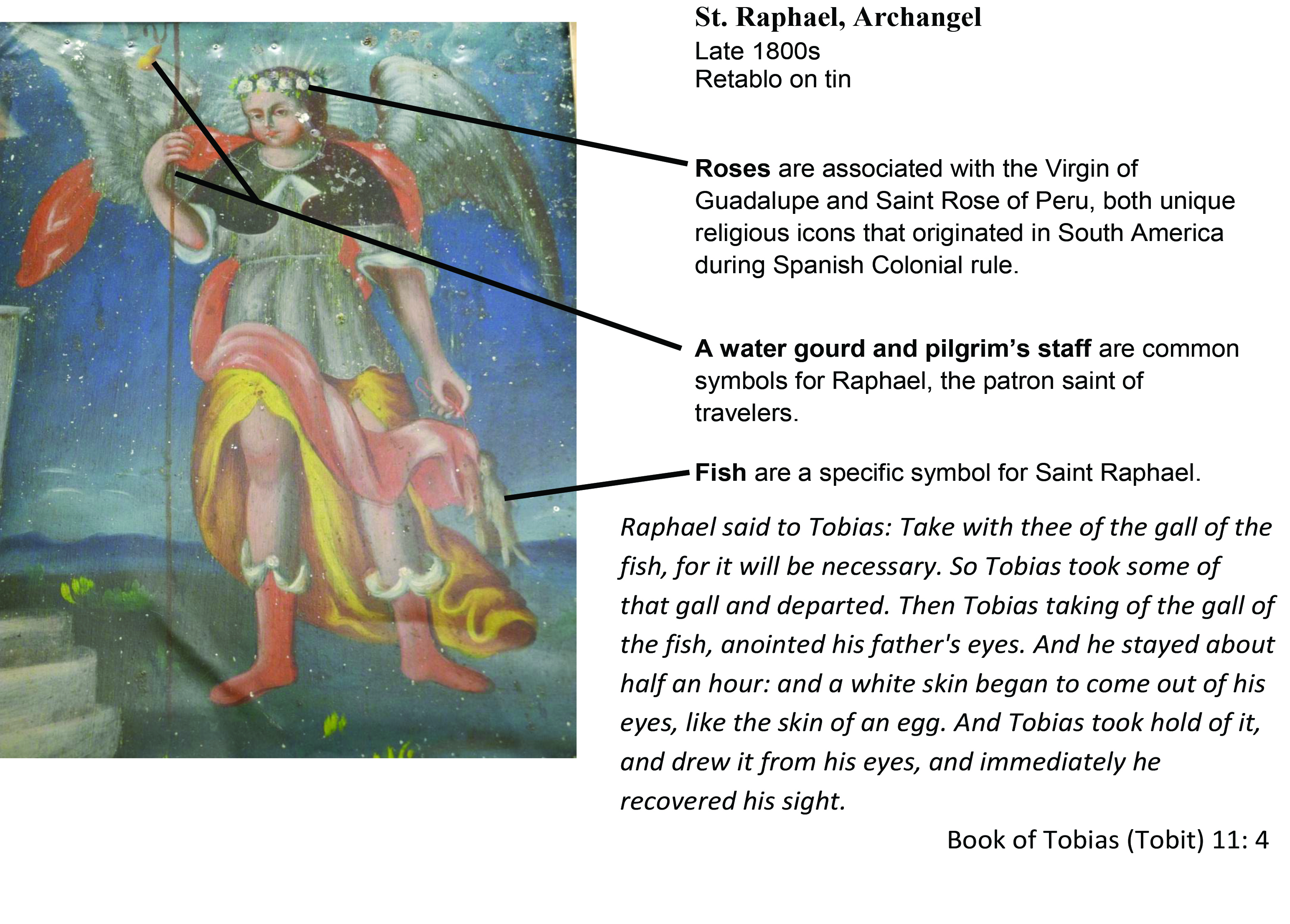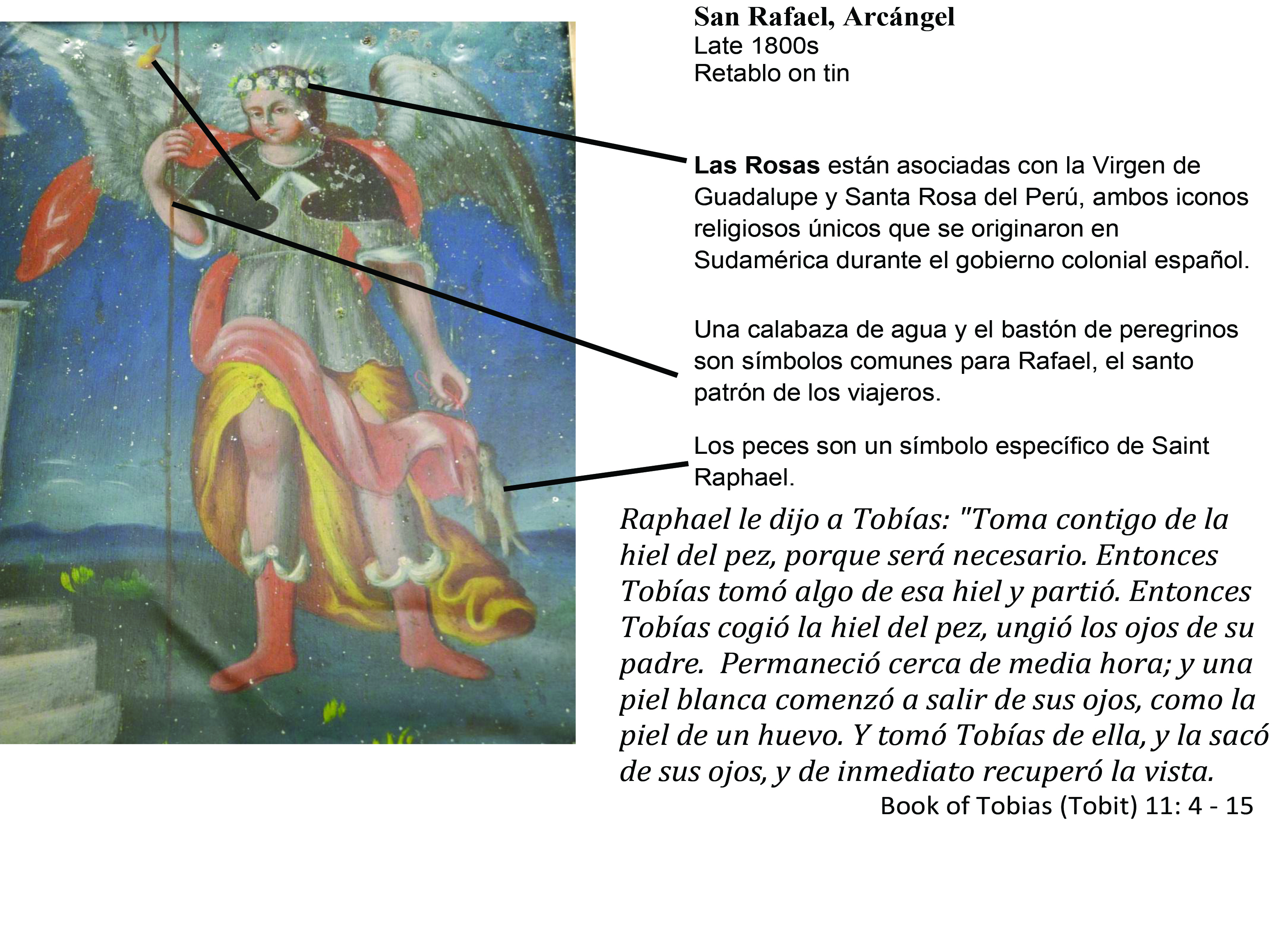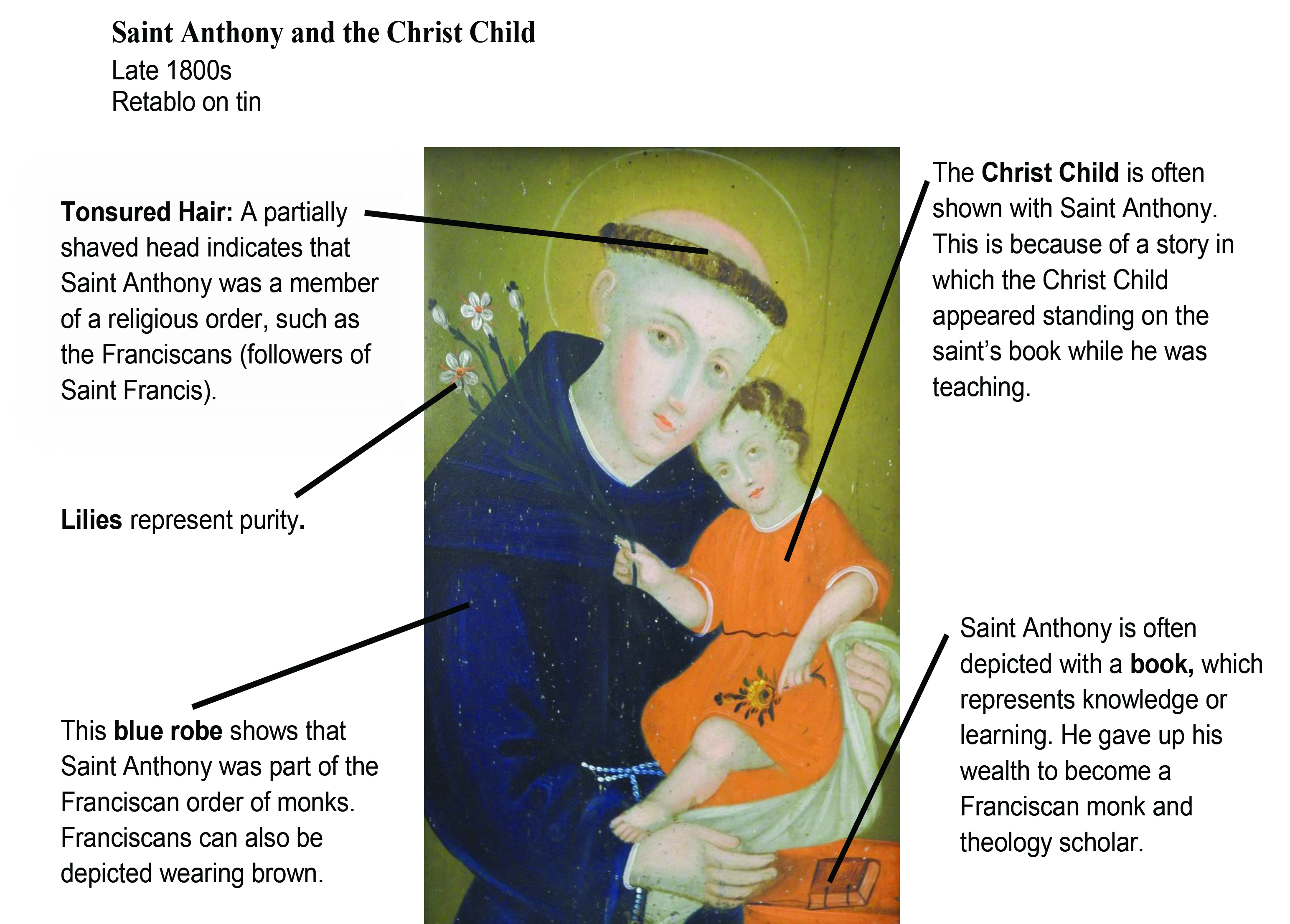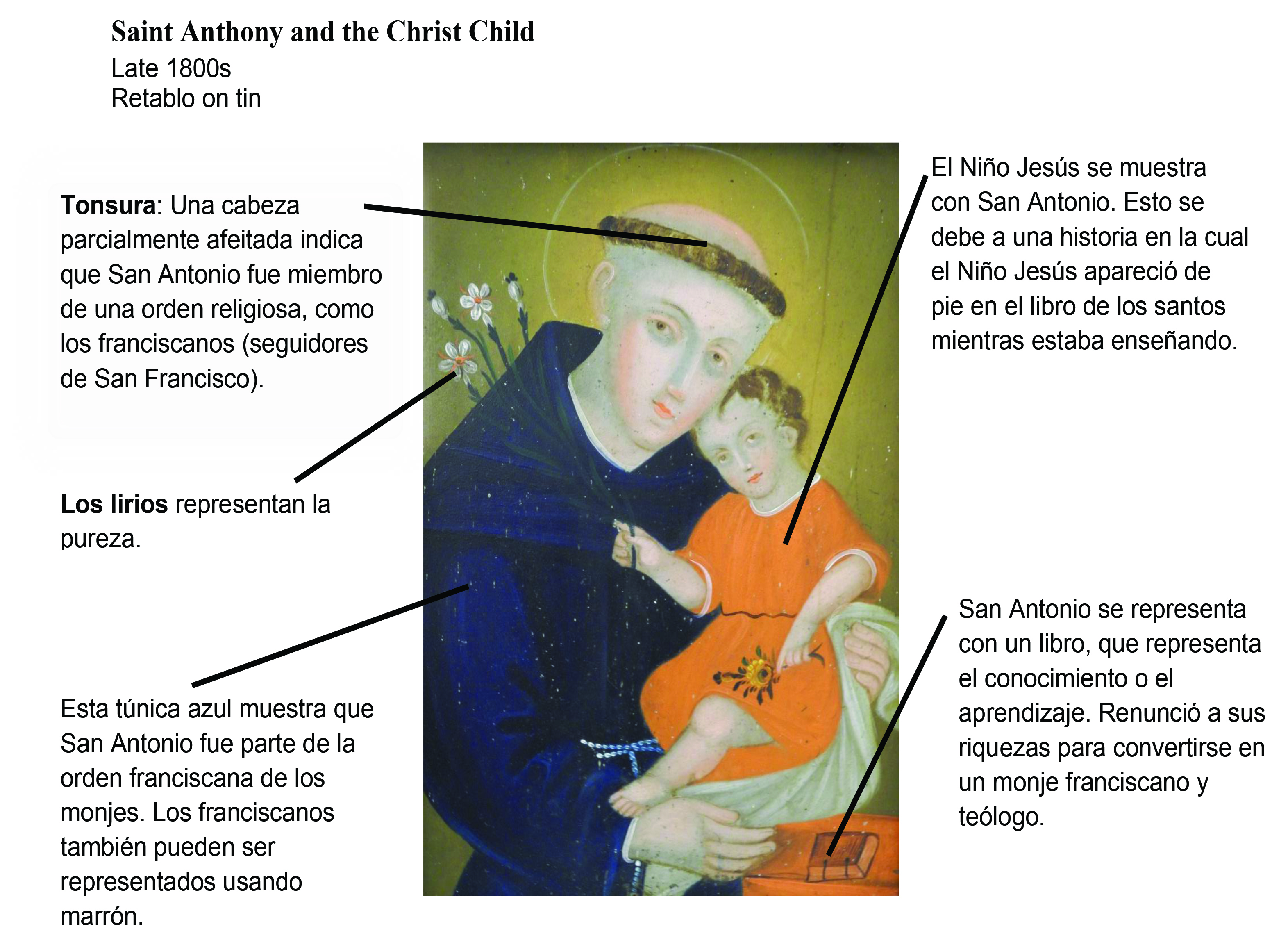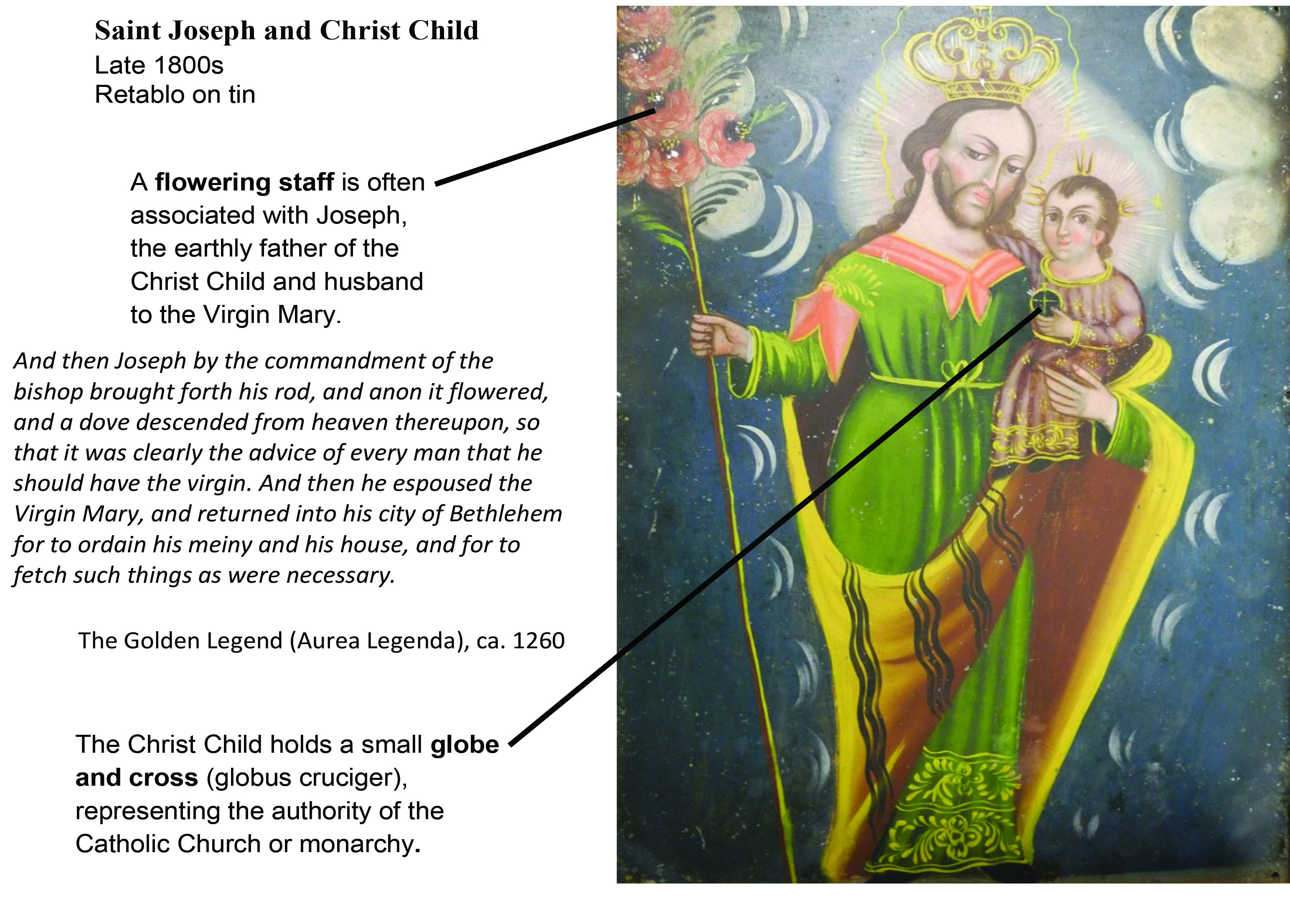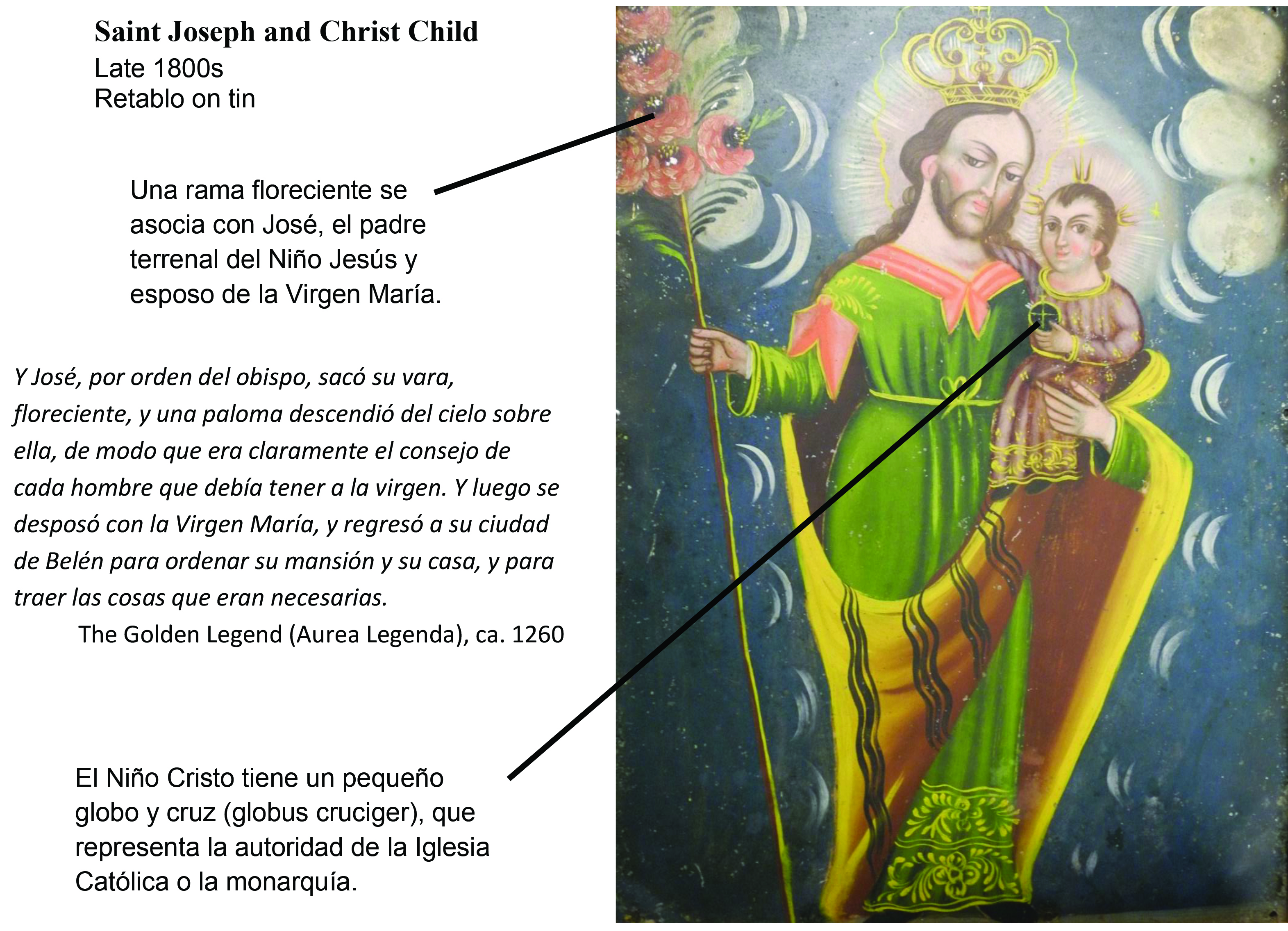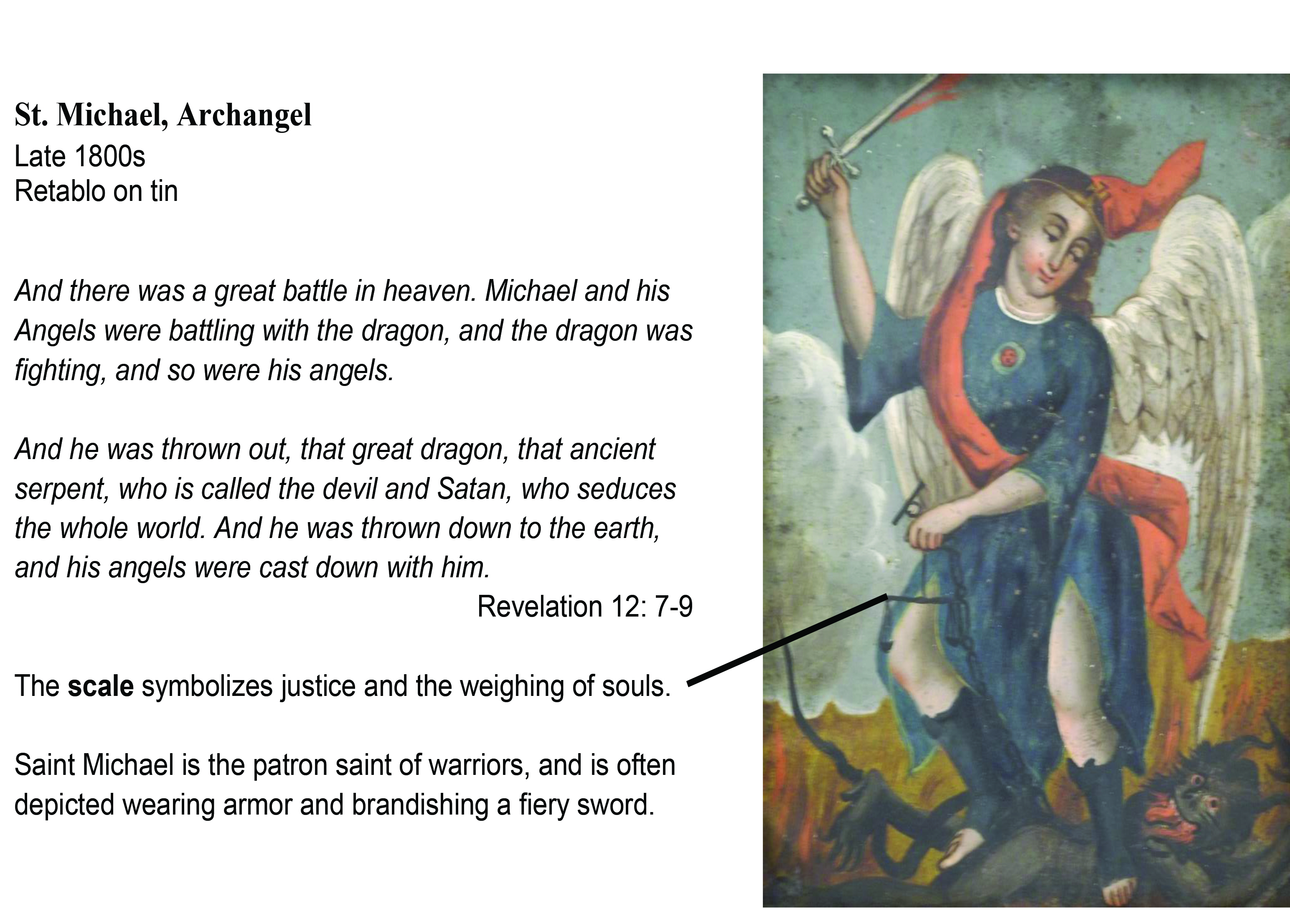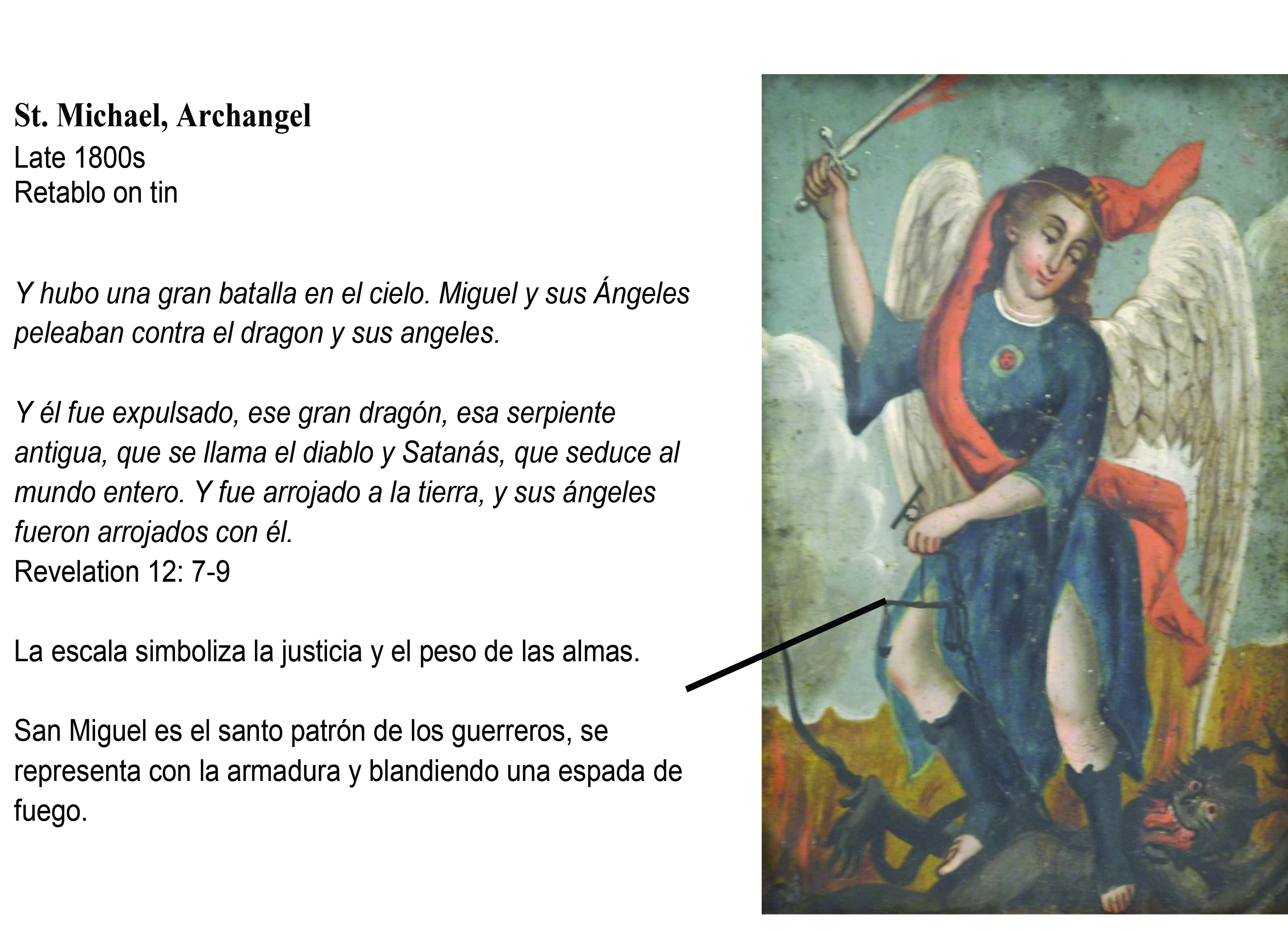 Click Here to download a free At-Home Art Survival Kit & more educational
projects on the Museum's Education Blog
The San Angelo Museum of Fine Arts is happy to introduce a new way to enjoy SAMFA's collection and programs with SAMFA Virtual.
SAMFA Virtual is a collection of virtual content that includes Tours, Demos, Online Activities, and more. You can find links to our content here on our wesbite, but the best way to experience SAMFA Virtual is to follow us on Social Media! We have exclusive content with family challenges and inside looks at our collection that you can find only on:
Family Day STEAM 2019
ASU and STEAM CENTRAL ROCKETRY & MECHANICAL ENGINEERING CAMP
SAMFA and its partners have teamed up for Family Day STEAM, coinciding with ASU & STEAM Central's Rocketry Camp.
Campers will be volunteering their rocket-building expertise on Family Day, as well as displaying their art and research.
Check out their rockets in action HERE


Check out our Mommy & Me Blog for activities you can do at home, self guided tours of the museum's exhibit, and learn more about fine art.

The San Angelo Museum of Fine Arts' Family Day program is hosted monthly and free of charge to community members. Family Day provides a participatory exploration of global cultures and themes based on SAMFA's collections. This cultural and thematic exploration is achieved by utilizing the entire museum facilities to provide extensive displays of artifacts, a variety of food samples (including visitor participation in cooking), live music and/or cultural performances and four or more visual art hands-on projects. In addition, there is no admission fee to the Museum's current exhibits during Family Day.
Family Day Sponsors
James Eatmon in memory of Janice Eatmon
Dr. Fernando & Dr. Dawn Gonzalez
Gary & Edith Jone
Dr. Ramsey Koschak
Livestock Weekly Dr. Robert & Reiko McCarty
Jack & Ann Moore
Frankie Mullens
Mejo Okon (Okon Studio)
John & Kathryn Louie Osterhout
Performance Properties
Truman & Joanne Rice
Dr. Sandy Seifert