Family Day
Family Clay Days Spring 2023:

Join us for Family Clay Day! Family Clay Day is brought to you in partnership with the Concho Clay Studio.
Attendance is always FREE! This month's activities are based on the artists in our current exhibit: Take a Closer Look: Orna Feinstein and McKay Otto.
Make abstract watercolors and fun Stacked Shape Sculptures while exploring the exhibit.
You can also do a fun Elements of Art seek-and-find with the exhibits on display as well as take home art kits to go!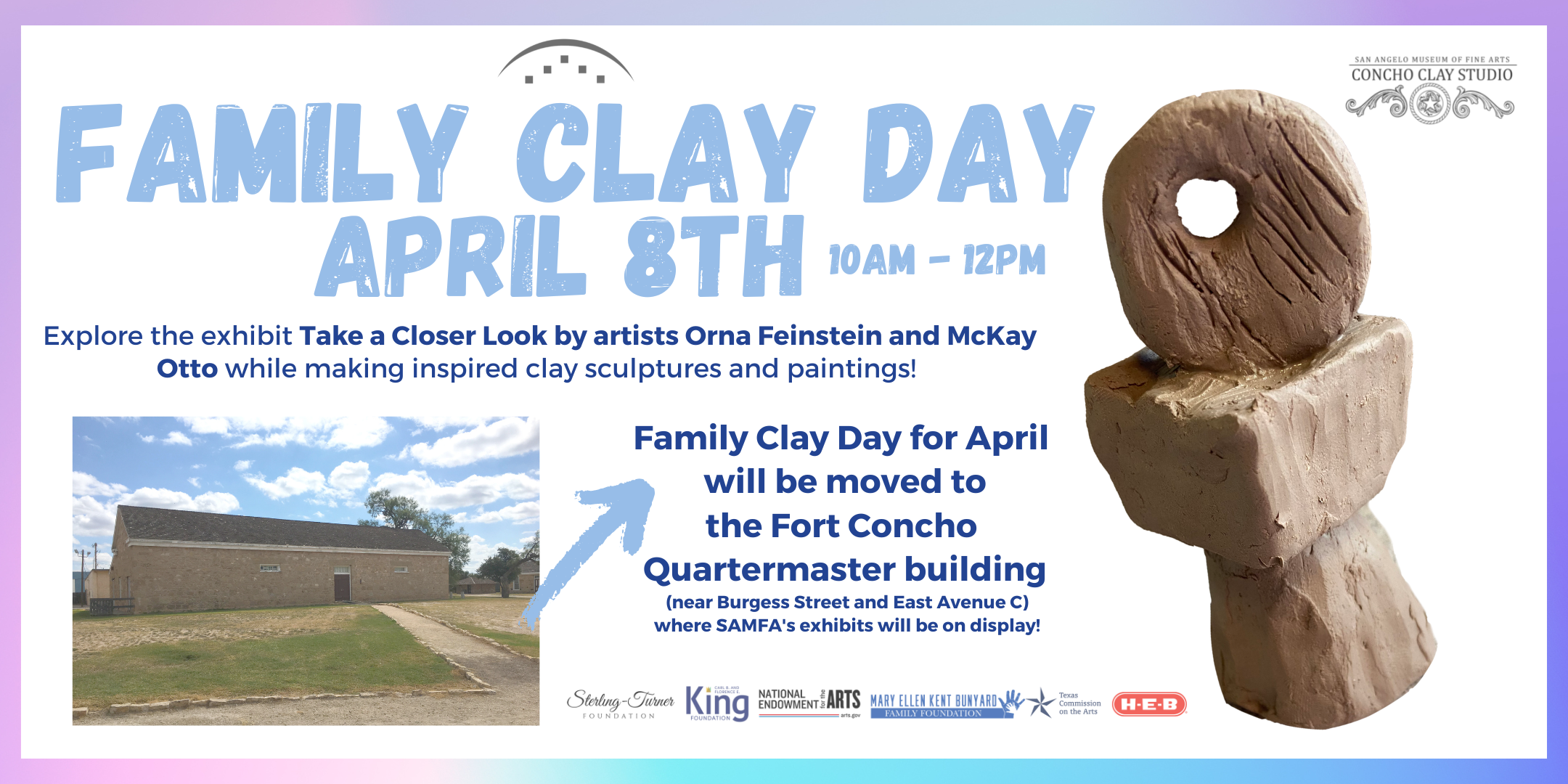 Admission is always FREE!
RSVP on Eventbrite.com
SAMFA's Family Days are proudly sponsored by:

---
Click Here to download a free Virtual Art Kit & more educational
projects on the Museum's Education Blog
The San Angelo Museum of Fine Arts is happy to introduce a new way to enjoy SAMFA's collection and programs with SAMFA Virtual.
SAMFA Virtual is a collection of virtual content that includes Tours, Demos, Online Activities, and more. You can find links to our content here on our wesbite, but the best way to experience SAMFA Virtual is to follow us on Social Media! We have exclusive content with family challenges and inside looks at our collection that you can find only on:
Check out our Mommy & Me Blog for activities you can do at home, self guided tours of the museum's exhibit, and learn more about fine art.

The San Angelo Museum of Fine Arts' Family Day program is hosted monthly and free of charge to community members. Family Day provides a participatory exploration of global cultures and themes based on SAMFA's collections. This cultural and thematic exploration is achieved by utilizing the entire museum facilities to provide extensive displays of artifacts, a variety of food samples (including visitor participation in cooking), live music and/or cultural performances and four or more visual art hands-on projects. In addition, there is no admission fee to the Museum's current exhibits during Family Day.
Family Day Sponsors
James Eatmon in memory of Janice Eatmon
Dr. Fernando & Dr. Dawn Gonzalez
Gary & Edith Jone
Dr. Ramsey Koschak
Livestock Weekly Dr. Robert & Reiko McCarty
Jack & Ann Moore
Frankie Mullens
Mejo Okon (Okon Studio)
John & Kathryn Louie Osterhout
Performance Properties
Truman & Joanne Rice
Dr. Sandy Seifert