Upcoming Exhibits
SAMFA's ROOF REPAIRS
In addition to the replacement of the copper roof of the main museum, interior repairs and some remodeling are planned. The main museum is closed while this work is going on, but our exhibits and programming continue in the adjacent Oakes Street galleries, Concho Clay Studio, and Education studio.
The museum is supported by generous contributions from both individuals and businesses. The grand re-opening of the main building is scheduled for January 19, 2024.
Luster: Realism and Hyperrealism in Contemporary Automobile and Motorcycle Painting
Produced by David J. Wagner, LLC, David J. Wagner Ph.D., Curator/Tour Director
October 5 - December 31, 2023
Located at the Blue Buffalo Gallery: 123 N. Chadbourne St., San Angelo, TX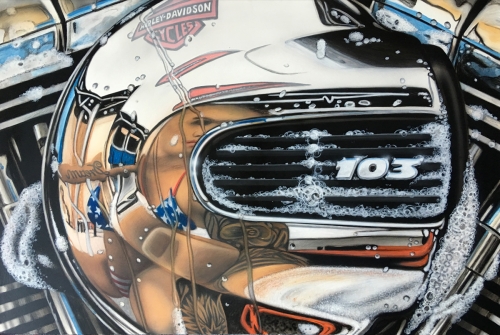 Throughout the 20th and 21st centuries, cars and motorcycles have not only been ubiquitous on the nation's streets and highways, but also in film, top forty hits, and in painting. With the emergence of photo-realism in the 1960's, motor vehicles assumed a special place of distinction as subject matter in the iconography of American art.
LUSTER: Realism and Hyperrealism in Contemporary Automobile and Motorcycle Painting, is a traveling museum exhibition comprised of over 55 paintings by nearly 15 of today's realists and hyperrealists who specialize in automobiles and motorcycles as their primary subject of choice. Exhibiting artists include (in alphabetical order): A.D. Cook (Las Vegas, NV), Randy Ford (Eastampton, NJ), Allan Gorman (West Orange, NJ), Marc G. Jones (Loveland, CO), Cheryl Kelley (Northern California), Richard Lewis (Los Angeles, CA), Lory Lockwood (New Orleans, LA), Robert Petillo (Hardyston, NJ), Kris Preslan (Lake Oswego, OR), Joseph Santos (Buena Park, CA), Ken Scaglia (Weston, CT), John E. Schaeffer (La Grange, TX), Guenevere "Moto Painter" Schwien (Portland, OR), and Harold Zabady (Camp Hill, PA). Their work exemplifies the very best of automotive painting being done today, and builds on that of the first wave of photo-realists in the '60's and '70's, which included the likes of Harold Cleworth, Don Eddy, Richard Estes, and Ralph Goings.
LUSTER encompasses a broad range of cars and motorcycles from vintage vehicles from the 1940's and before to more recent classics. During the post-World War II boom years, cheap gas and the advent of the Interstate Highway System in 1956 propelled automotive design and sales. In the 1950s, the industry reached new heights by offering consumers increased horse power for thrust and speed, and more artfully, integrated design which was dramatized in the 1960's with features such as tail fins. LUSTER features paintings of passenger automobiles from those boom years and since, plus a range of motorcycles and racing vehicles.
Like the shiny automobiles and motorcycles portrayed by the exhibit's artists, its paintings can be characterized by the luster that permeates their imagery. Chrome ornamentation and trim together with enameled bodywork, glass, and interior fabrication to meet the needs of purpose-built vehicles of all sorts: these are the surfaces which recent realists and hyperrealists have exploited to generate true, virtuosic masterpieces.
Serving as Curator for LUSTER Realism and Hyperrealism in Contemporary Automobile and Motorcycle Painting is David J. Wagner, who earned his Ph.D. in American Studies and served as a museum director for 20 years.
Artwork by A.D. Cook, Dream 103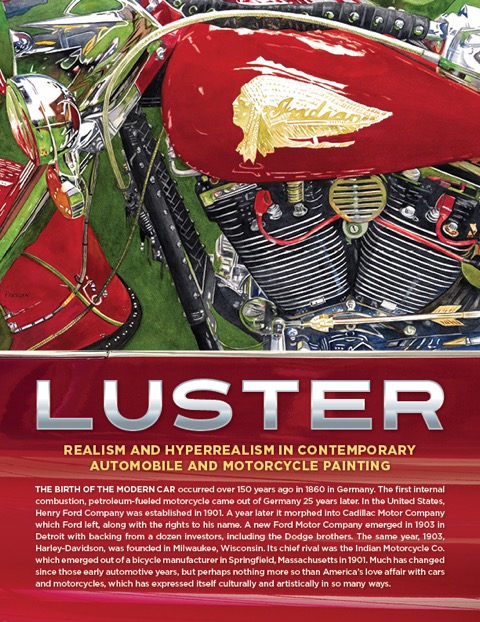 ---
Microscape: A Studio Art Quilt Associates Global Exhibition
January 19 – March 31, 2024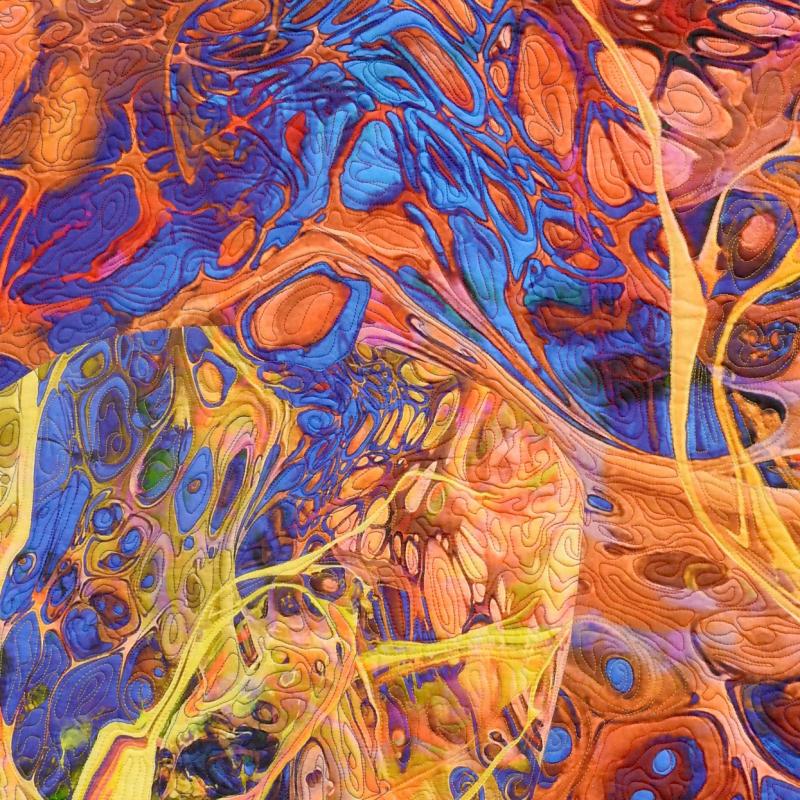 Our known world stretches far beyond what we can see with the unaided eye. Microscopes, magnifying glasses, and virtual imaging techniques reveal a world of great beauty and complexity. That world contains the smallest particles, tiniest organisms, smallest landscape, or natural details and provides us with an abundance of artistic inspiration. The art quilts in the exhibit explore a corner of the world at high magnification, capturing tiny wonders at the microscopic level, or by zooming in on a larger object to show its smallest details.
Artwork by Marian Zielinsky, Molecular Energy
N.C. Wyeth and the Golden Age of American Illustration
January 19 – March 31, 2024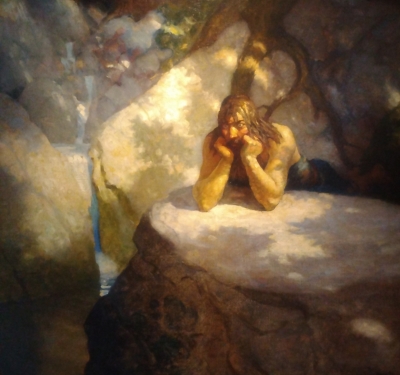 This intimate selection of works from the collection of Joel and Suzanne Sugg features seldom-seen paintings by N.C. Wyeth (1882 - 1945), the patriarch of the Wyeth dynasty of painters. The exhibit also includes works by his contemporary, Frank Schoonover (1877 – 1972), and their teacher, Howard Pyle (1853 – 1911). The art in the exhibit is accompanied by the published works their paintings were created to illustrate. Best known for their iconic illustrations of adventure novels, Wyeth and Schoonover (and Pyle before them) helped to define the familiar imagery associated with pirates, Robin Hood, and other characters of popular literature.

N.C. Wyeth detail, from the Joel and Suzanne Sugg Collection
---
25th San Angelo National Ceramic Competition
In loving Memory of Darlene Williams
April 19 – June 23, 2024


The San Angelo Museum of Fine Arts hosts a juried ceramic competition every two years. The competition is open to all artists who are residents of the United States, Canada, and Mexico. All work completed within the last two years, both functional and sculptural, is eligible.
For more information click here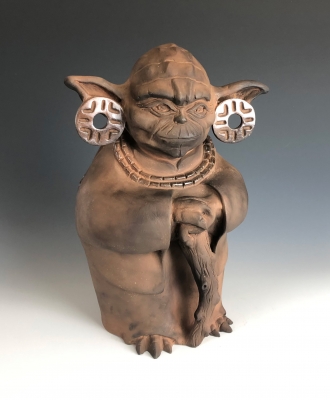 Juror: Louise Rosenfield, Dallas, TX
Invited Artist: Chase Kahwinhut Earles
CaddoPottery.com
Artwork by Chase Kahwinhut Earles
Xineesi II: Spiritual Leader
---
In Conversation: Will Wilson
July 11- September 15, 2024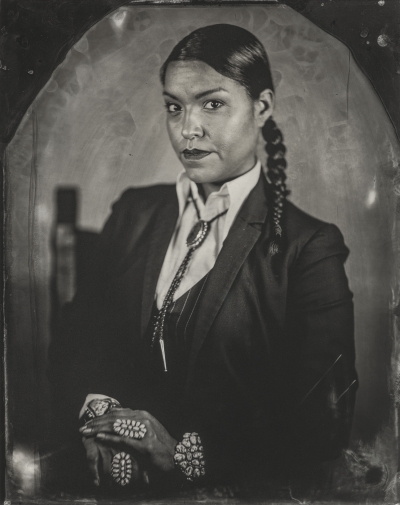 The exhibit features the work of contemporary Navajo (Diné) photographer Will Wilson, together in a dialogue with the work of Edward Curtis, best known for his portfolios of romanticized photos published as The North American Indian (1907-1930). Wilson's Critical Indigenous Photographic Exchange (CIPX) project, on the other hand, is dedicated to creating a contemporary vision of Native North America. Wilson employs a wet-plate collodion photographic technique, based on the nineteenth-century method, but he pushes the CIPX project into the contemporary with the inclusion of "Talking Tintypes," which use augmented reality (AR) technology to bring photographs to life. For Wilson, CIPX is a way to create new conversations and emphasize exchange over problematic documentation.
In Conversation: Will Wilson is organized by Crystal Bridges Museum of American Art.
Generous support provided by Art Bridges

Image: Will Wilson (b. 1969), Michelle Cook, Citizen of the Navajo Nation, UNM Law Student, 2013, printed 2018, archival pigment print from wet plate collodion scan, 22 x 17 in. Art Bridges. Photography of artwork by Brad Flowers.