Current Exhibits
The Angelo State University Art Faculty Biennial Exhibition
September 22 - November 27, 2022
Angelo State University Faculty include Edwin Cuenco, Randy Hall, Chris Stewart, Ben Sum, Hayun Surl, Kat Truth, John Vinklarek, Leila Yarian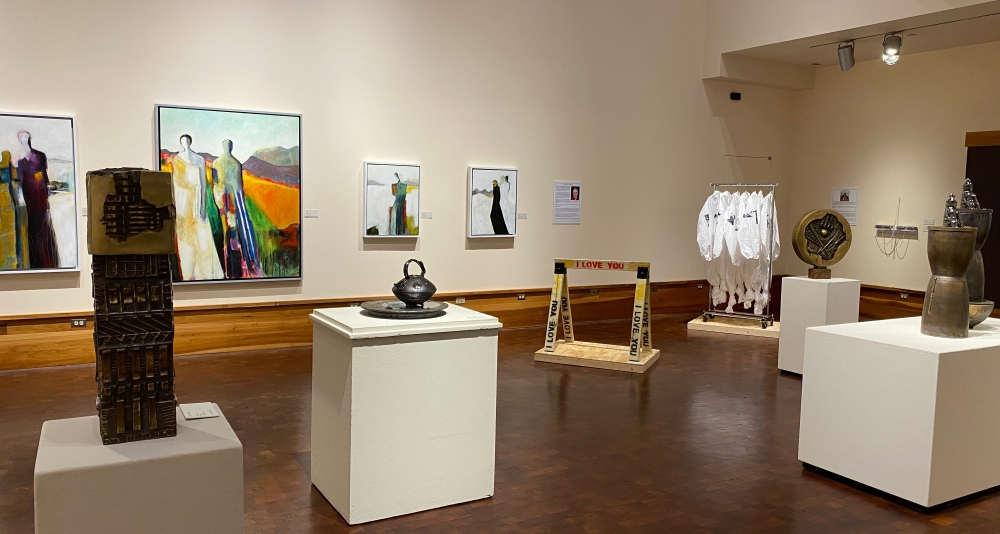 True Texas II: Folk & Traditional Arts from the Concho Valley to the Rio Grande
September 22 - November 27, 2022
An exploration of the rich craft traditions and creative innovations of our region, as expressed in the work of 19 artists and artisans.

True Texas is made possible by a grant from the National Endowment for the Arts, with exhibition support from Texas Bank, Texas Commission on the Arts, and Texas Folklife.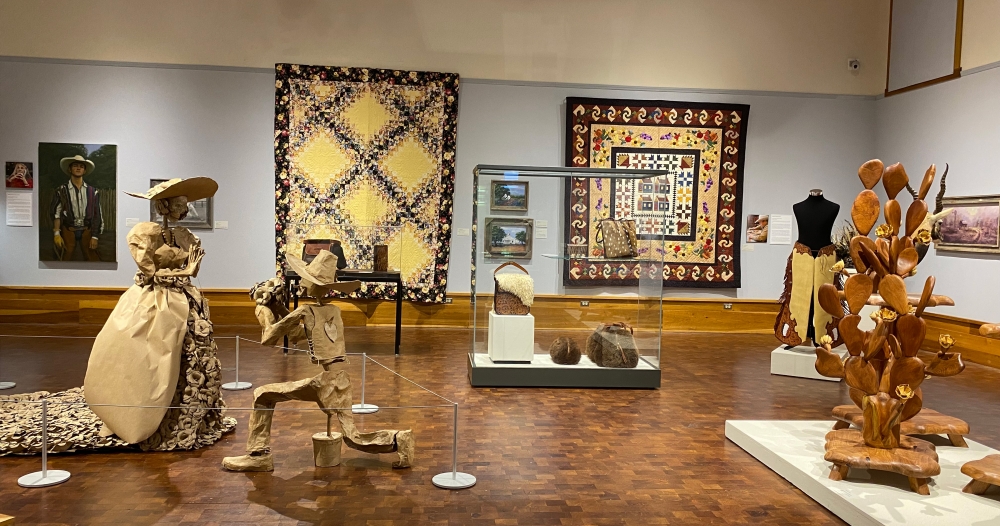 Artists include:
Kevin Elkins, May, Brown County, Silversmith
Jeremy Balderrama, Brownwood, Brown County, Duck Call Maker
Bo McClellan, Brookesmith, Brown County, Woodturner
Gloria Barr, Rochelle, San Saba County, Landscape Painter
Wayland Dobbs, Cherokee, San Saba County, Metal Fabrication
Travis Shannon, Cherokee, San Saba County, Deer Processing & Taxidermy
Jimmy Bray, Brady, McCulloch County, Walking Cane Maker
Karlton Steffens, Brady, McCulloch County, Interpretive Designer
Voca Quilting Club, Voca, McCulloch County, Hand Quilters
Chip Edmiston, Mason, Mason County, Hatter
Charles Stuart, Mason, Mason County, Mesquite Wood Sculptor
Gene Zesch, Mason, Mason County, Woodcarver
Roxanne Fargason, Junction, Kimble County, Portrait Painter
Gary Neisemier, Junction, Kimble County, Western Gear Maker & Repair
Grady Douglass, Rocksprings, Edwards County, Leather Crafter
José Santos Gómez, Del Rio, Val Verde County, Master Instructor, La Catrina Tradition
Myles Jakubowski, Del Rio, Val Verde County, Spinning Wheel Maker
Isabelle & Leticia Ramos, Del Rio, Val Verde County, Folk Crafters ~ La Catrina Tradition
---
October 2021 - October 2023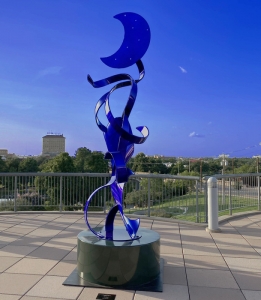 The 7th Biennial Salmon Sculpture Competition in Memory of Pam Salmon
The Salmon Sculpture Competition, a juried exhibition of outdoor sculpture, is a biennial exhibit of 12-15 large-scale sculptures in Sunken Garden Park, City of San Angelo. The exhibit is hosted by the San Angelo Museum of Fine Arts, in cooperation with the City of San Angelo Public Art Commission and the City government. Sunken Garden Park (700 Block S. Abe Street/W. Avenue D) includes a formal sunken garden area where, spring through fall, canna and other flower displays are featured.
Michelle O'Michael
Houston, TX
Moon River
Steel and resin
For Information about the 2019 Sculpture Competition CLICK HERE
Click here for Upcoming Exhibits Click here for Past Exhibits


Special Loan Exhibit at the Official Residence of the European Union's Ambassador to the United States, Washington, D.C.

Ceramics and paintings from the SAMFA Collection on display in the Ambassador's home.