Current Exhibits
Banjara Textiles and Jewelry from the Jerez Collection
July 14 - September 11, 2022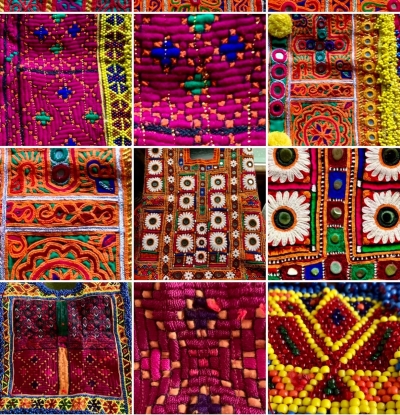 The Jerez Collection of textiles and jewelry, handcrafted by the Banjara peoples of India, Pakistan, and Afghanistan, was lovingly assembled over the years by Sherry McDonald Stewart, Daphne S. Nallie, and Daisy S. Gill. A small but stunning selection from the collection is on display in this exhibit. "Banjara" is an umbrella term used by outsiders to describe multiple formerly-nomadic peoples living throughout India, Pakistan, and Afghanistan, who are descended from a single group but now vary in language, in cultural norms, and in name, depending on where they live. There are an estimated 5.6 million Banjaras in India. The Romani of Europe also are believed to be descended from Banjara ancestors.
Towards a 21st Century Abstraction
July 14 - September 11, 2022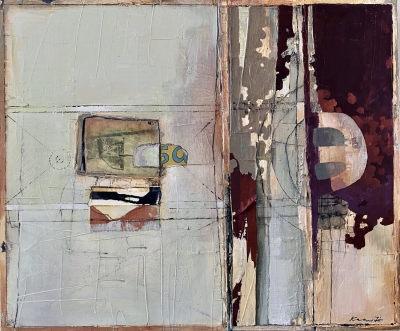 Towards a 21st Century Abstraction is a group exhibit of contemporary American Abstract-Expressionist painters, organized by the artists themselves. The collection is made up of seven artists working in studios across the country. Their paintings have been exhibited and collected extensively across the United States and internationally. They include: Sammy Peters, Katherine Chang Liu, David Bailin, Connie Connally, Jeri Ledbetter, Brad Ellis and Doug Trump. In a period of art that values reproducibility, speed, and spectacle, these seven artists find a common ground and belief in the unique, the contemplative, and the inventive use of their materials.
Artwork pictured by Katherine Chang Liu


---
October 2021 - October 2023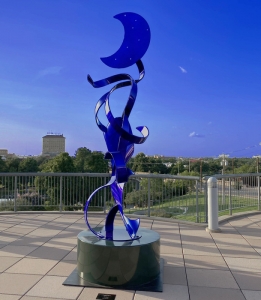 The 7th Biennial Salmon Sculpture Competition in Memory of Pam Salmon
The Salmon Sculpture Competition, a juried exhibition of outdoor sculpture, is a biennial exhibit of 12-15 large-scale sculptures in Sunken Garden Park, City of San Angelo. The exhibit is hosted by the San Angelo Museum of Fine Arts, in cooperation with the City of San Angelo Public Art Commission and the City government. Sunken Garden Park (700 Block S. Abe Street/W. Avenue D) includes a formal sunken garden area where, spring through fall, canna and other flower displays are featured.
Michelle O'Michael
Houston, TX
Moon River
Steel and resin
For Information about the 2019 Sculpture Competition CLICK HERE
Click here for Upcoming Exhibits Click here for Past Exhibits


Special Loan Exhibit at the Official Residence of the European Union's Ambassador to the United States, Washington, D.C.

Ceramics and paintings from the SAMFA Collection on display in the Ambassador's home.