Past Ceramic Competitions

24th San Angelo National Ceramic Competition
April 8 – June 26, 2022
Click here to view the online gallery.
Juror: James Watkins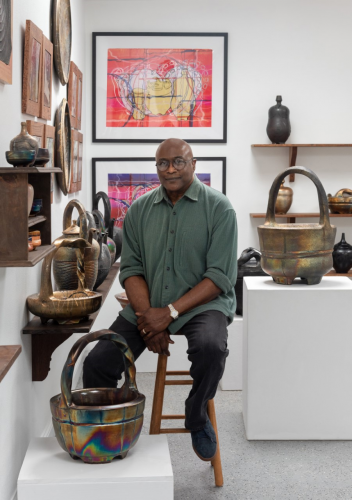 James C. Watkins is a ceramic artist who has worked with clay for over 40 years. His work is held in 23 permanent collections, including the White House Collection of American Crafts at the Clinton Library in Little Rock, Arkansas, the Shigaraki Institute of Ceramic Studies in Shigaraki, Japan, the Renwick Gallery of the Smithsonian Institution in Washington DC, the Everson Museum in Syracuse, New York, the Tweed Museum in Duluth, Minnesota, the Eiteljorg Museum in Indianapolis, Indiana and the Museum of Fine Arts, Houston in Houston, Texas. Watkins' work has been widely exhibited in 44 solo exhibitions and 169 group exhibitions.
Watkins is a Texas Tech University, Horn Distinguished Professor Emeritus. The Horn Professorship is the highest honor Texas Tech University may bestow on members of its faculty. Horn Professorships are granted to professors in recognition of national and international distinction for outstanding research or other creative scholarly achievements.
His awards include the Texas Tech University President's Excellence in Teaching Award and the third recipient of the Art on the Llano Estacada Legacy Award, presented by Texas Tech University Museum Association. He was a 2005 Senior Fulbright Scholar, teaching in Vietnam at the Ho Chi Minh City University of Architecture. Watkins is the 2019 recipient of the HCCC Texas Master Award present by the Houston Center of Contemporary Craft in Houston, Texas.
Watkins is the author of the self-published book, Reflections Made of Memories. He is also the co-author of, Alternative Kilns & Firing Techniques published by Sterling Publishing. Alternative Kilns & Firing Techniques wasco-authored with Paul Andrew Wandless and has been translated into Chinese and German. Watkins is also the co-author of Architectural Delineation: Presentation Techniques and Projects published by Kendall Hunt Publishing, co-authored with James T. Davis. His work is the subject of a book entitled A Meditation of Fire: The Art of James C. Watkins by Kippra D. Hopper published by Texas Tech University Press. Watkins has written numerous articles for national and international magazines, including Ceramics Monthly, Studio Potter, New Ceramics: The European Ceramics Magazine, and China Ceramic Artist. He received his BFA from the Kansas City Art Institute and MFA from Indiana University.
Website: www.jcwclayworks.com
Invited Artist: Andrea Gill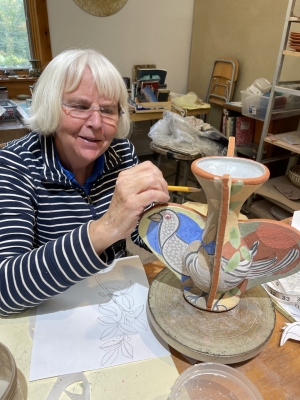 Andrea Gill began her ceramic art career in 1971 as an apprentice to a local potter in Cape Cod MA. She had just graduated from Rhode Island School of Design with a BFA in Painting, and continued her ceramics education at Kansas City Art Institute. There she met her husband, John Gill, and later joined him in Alfred, NY entering the ceramics MFA program in 1974. They went on to share a residency at the Archie Bray Foundation. For the next five years, Andrea Gill exhibited her work around the world. In 1984, they returned to Alfred, NY to share a teaching position. She continued to exhibit her work in galleries and museum exhibitions, including solo shows in New York, Philadelphia and most recently in Aspen, CO. She retired from teaching in 2016 and has continued making and exhibiting her work. Gill's work is in the collections of the Victoria and Albert Museum in London, the Los Angeles Museum of Contemporary Art, Renwick Gallery of the Smithsonian Institute and other public and private collections. She has received numerous grants including from NEA Individual Artist Grants, and NYFA Grants. She was awarded fellowships from the Louis Comfort Tiffany Foundation Fellowship, and the Archie Bray foundation, and the American Craft Council. In 2019 she received the Distinguished Educator Award from the Renwick Alliance. She is a member of the International Academy of Ceramics.
Click here to see a list of all accepted artists in the 24th National Ceramic Competition
---
The 23rd San Angelo National Ceramic Competition
Click HERE to view the Online Gallery of the competition
Online April 17; open to the public June 12 - September 6, 2020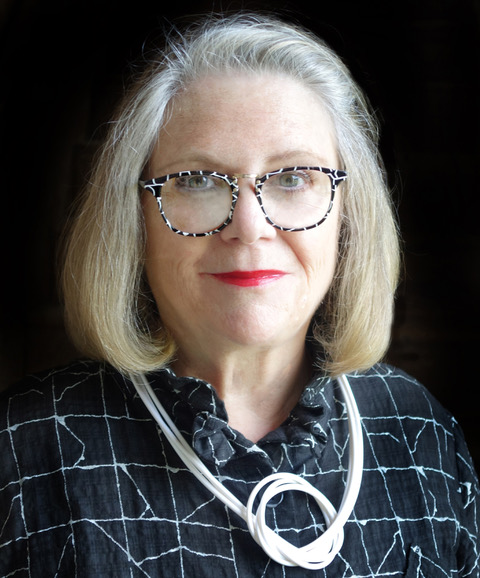 Juror: Jo Lauria, Los Angeles, CA

Jo Lauria is a Los Angeles-based curator, writer, and educator who received her curatorial training at The Los Angeles County Museum of Art. She is a specialist in the fields of design, craft, and decorative arts, with particular emphasis on modern and contemporary studio ceramics.
Lauria is the organizer of several national touring exhibitions as well as author of numerous publications: biographies that chart the lives and work of contemporary designers and craft artists; and survey books that chronicle major movements in the field. Most recently she received the American Ceramic Circle Book Award for Ralph Bacerra: Exquisite Beauty. Currently she is a contributing writer to Ornament Magazine, Mentor Faculty of Otis College of Art and Design, and Adjunct Curator of the American Museum of Ceramic Art (California).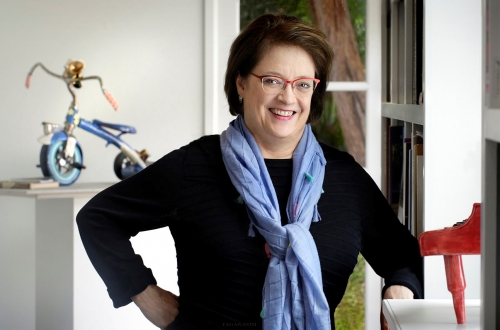 Invited Artist: GINGER GEYER, Austin, TX
For each competition show, a noted ceramic artist is asked to display a small focus exhibit, which highlights the artist's work. This year we're pleased to welcome Austin artist Ginger Geyer. She grew up in Springdale, Arkansas, attended the University of Arkansas and took off for Texas in 1973. At SMU she earned BFA in painting and MFA in museum education. She later received a lay degree in pastoral ministry at the Seminary of the Southwest (SSW). Having worked as an art museum professional for 15 years (at the Dallas Museum of Art and the Kimbell Art Museum in Fort Worth), she occasionally consults on collection management and museum design. For another 15 years she directed artist workshops and curated the gallery for the H.E. Butt Foundation retreat center, Laity Lodge. Other career opportunities include adjunct professor at SSW and Concordia University, plus artist residencies in Vancouver, Dallas, and Rome. Making art with homeless people and especially with her own two children have deeply informed her avid studio practice. For thirty years, porcelain sculpture has been the primary medium for combining her quests into art history, spirituality and culture. A large body of "not quite trompe l'oeil" works is accompanied by ever-changing narratives. Now in a retrospective in an Austin historic house, her collaborative project with a performer called "If These Walls Could Talk," is engaging a diverse audience over issues of privilege and racial equity. For more information, visit www.gingergeyer.com, Instagram, or Valley House Gallery and Sculpture Garden in Dallas.
---
The 22nd San Angelo National Ceramic Competition
April 20 - June 24, 2018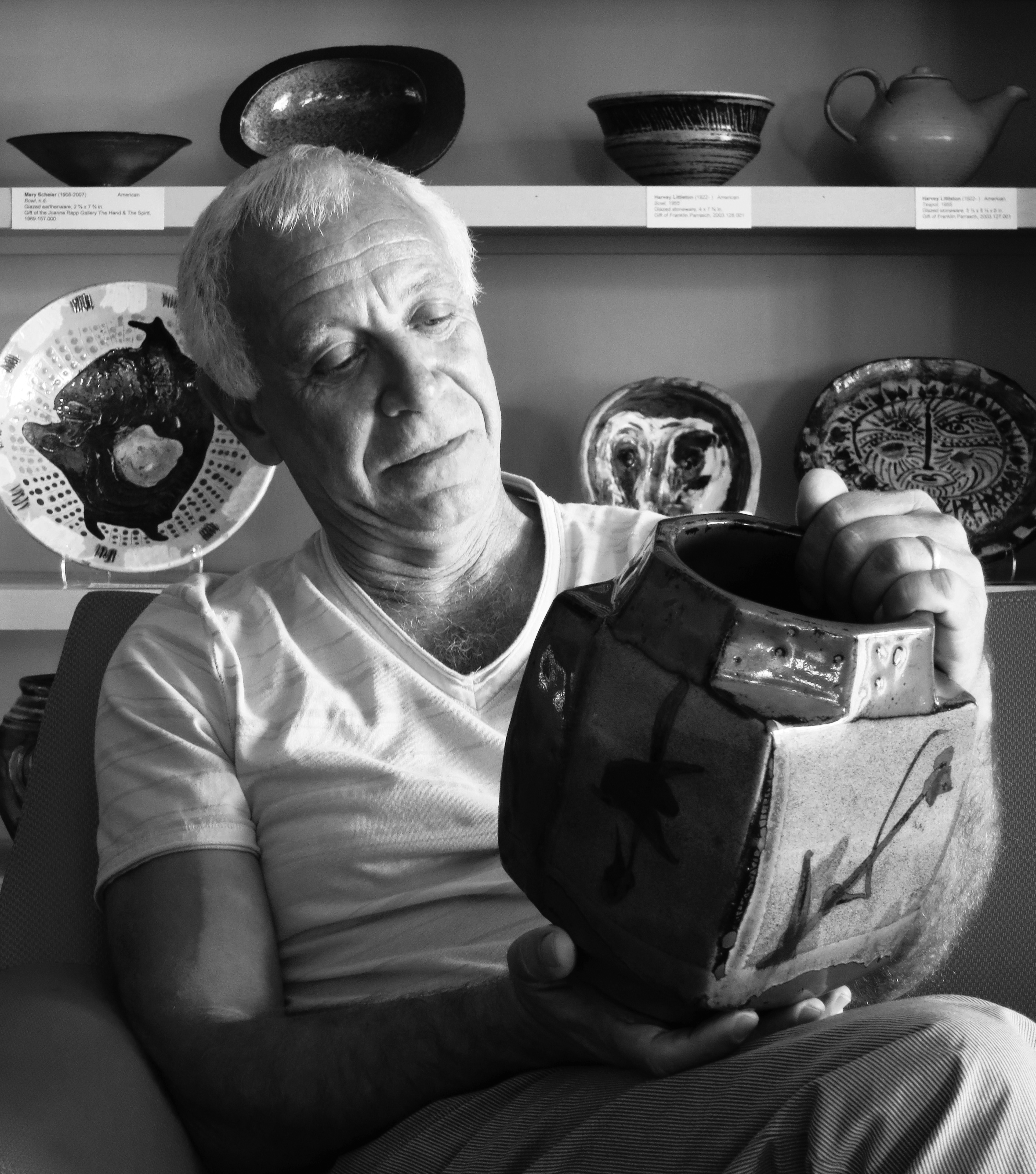 Juror: Peter Held, Chandler, AZ
In the course of Peter Held's impressive three-decade career as a museum director and contemporary art curator, he has organized more than 200 exhibitions, including seven national traveling shows. Held is the editor and essayist for 10 books including Infinite Place: The Ceramic Art of Wayne Higby (2013); Innovation and Change: Ceramics from the ASU Art Museum Collection (2009), and Akio Takamori: Between Clouds of Memory (2005).
He has received three of the highest accolades possible within the field from the Friends of Contemporary Ceramics; the Smithsonian's James Renwick Alliance, and the National Council for Education on the Ceramic Arts.
Held also served as a trustee for the American Craft Council, was a resident artist at the Archie Bray Foundation for the Ceramic Arts (1974-75), and has been a nominator for several granting organizations.
In June, 2014, he retired from his position as curator of ceramics, Arizona State University, Ceramics Research Center, and owns an art appraisal and consulting business based in Phoenix, Arizona.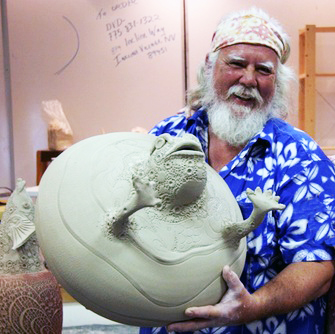 Invited Artist: Randy Brodnax, Dallas, TX
Randy Brodnax, a life-long potter and educator, creates everything from functional dinnerware to large decorative vessels to clay sculpture.
A Louisiana native, Randy has retained much of the Cajun joie de vivre with which he was raised, and has spent a career building bridges among clay artists of all leverls of experience.
Many of Randy's creations exhibit images of nature, animals, and fish.
Click here for the list of accepted artists
---

The 21st San Angelo National Ceramic Competition
April 15 - June 26, 2016
Juror: Christy Johnson
Independent Curator and Artist, retired Director of AMOCA, Pomona, California
Christy Johnson is currently an independent curator, writer and part-time ceramics instructor. She holds a BA in English Literature from California State University, Los Angeles, and later studied ceramics at Pasadena City College with Phil Cornelius and at Otis College of Art and Design with Ralph Bacerra. Her pottery career includes many exhibition credits, awards, teaching experiences, and workshop presentations.
Among her early curatorial highlights is a Sam Maloof woodworking retrospective and Envisioning the Future, a collaboration with feminist artist Judy Chicago. Between 2004 and 2013, Johnson was Director of the American Museum of Ceramic Art in Pomona, CA, where she facilitated a diverse, five-exhibitiona-year schedule, including American art tile, California-made dinnerware, and Chinese glazes. She also curated shows that featured renowned ceramic artists such as Paul Soldner, Peter Voulkos, Don Reitz, Rudy Autio, and Patti Warashina. Most notably, Johnson was involved with the Getty's Pacific Standard
Time initiative, producing a critically acclaimed exhibition, Common Ground: Ceramics in Southern California 1945-1975, and book of the same title.
Among her current curatorial projects are Otis Revisited and Crossroads in Clay at Chouinard and Otis: The Ralph Bacerra Years, two out of four Los Angeles year-end exhibitions associated with famed ceramic artist Ralph Bacerra.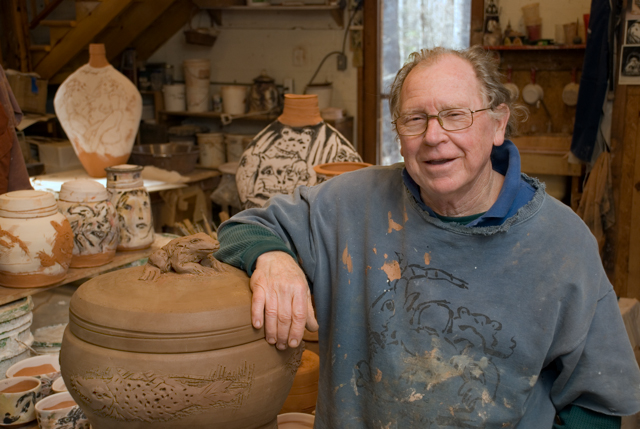 Invited Artist: Ron Meyers, Athens, Georgia

Invited Artist, Ron Meyers, earned his MFA degree in ceramics in 1967 from the School for American Craftsmen at the Rochester Institute of Technology. He taught at the University of South Carolina from 1967-1972, then spent the next 20 years teaching at the University of Georgia in Athens, where he retired as Professor Emeritus in 1992. He has an extensive history of professional activities within the ceramics community and has presented more than 100 workshops and demonstrations in the United States and abroad. Recent exhibitions of his work include a one-person show, Roads, Rivers and Red Clay, at the College of Environment and Design, University of Georgia and the Huntington Museum of Art, Huntington, WV; the Regis Masters Exhibit at the Northern
Clay Center, Minneapolis, MN; and a 45-year retrospective, A Potter's Menagerie, at the Arkansas Art Center, Little Rock. His works are in the collections of the Wiseman Museum of Art, Minneapolis, MN; the High Museum, Atlanta, GA; the Georgia Museum of Art, Athens GA; and the Renwick Gallery, Washington, DC.
---
The 20th San Angelo National Ceramic Competition
April 11 - June 29th, 2014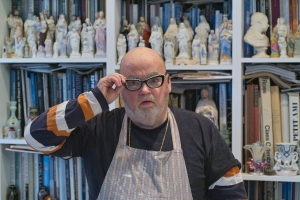 Léopold Foulem
Juror for the 20th National Ceramics Competition

Montréal ceramist Léopold L. Foulem's distinguished career extends over more than 30 years, with over 50 solo exhibitions and more than 200 group shows. Foulem taught ceramics for more than 20 years at the CÉGEP du Vieux-Montréal, and fine arts from 1994 until 2013 the CÉGEP de Saint-Laurent. He is also a world authority on Picasso's ceramics and has lectured extensively on the subject of ceramics as an autonomous art form; many were published.
Foulem has said, "My ceramics are about art and ceramics, and ultimately about ceramics as art…I believe that genuine art is about concepts and indisputably neither about medium nor style, nor even about making."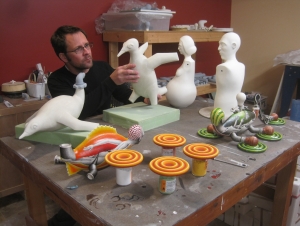 Invited Artist: Jason Walker, Bellingham, WA
Jason Walker was born in 1973 and grew up in Pocatello, Idaho.
He received his BFA from Utah State University and his MFA from Penn State University. Walker spent two years as an Artist in Residence at The Archie Bray Foundation for the Ceramic Arts, where he was the recipient of the Taunt Fellowship award. He was also awarded an NCECA International Residency Fellowship for a residency in Vallauris, France. His work is included in major collections and he has shown and lectured internationally. Walker's ceramic art explores the complex and paradoxical relationship between American culture, technology, and nature.
---
The 19th San Angelo National Ceramic Competition
April 20 - June 24, 2012
Jurors: Garth Clark and Mark Del Vecchio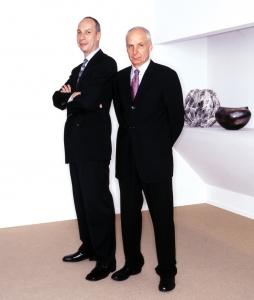 The preeminent international dealers in 20th century ceramics. They founded Garth Clark Gallery in Los Angeles in 1981 and opened a second space in New York, which they operated from 1983 to 2008. They now live in Santa Fe and work as private dealers. They have organized eight major international symposia on ceramic history and criticism, published numerous books and catalogs and received a number of prestigious awards, both lifetime achievement and honorary doctorates.
Invited Artists: Kyle and Kelly Phelps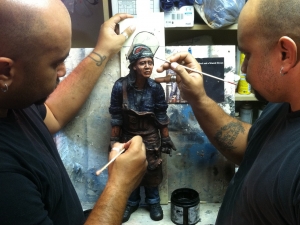 Identical twin brothers, who work collaboratively on their narrative work exploring the topics of race, class and the working man at their studio in Centerville, Ohio. They both received BFA's from Ball State University in Indiana and continued on to earn MFA degrees in Ceramics and Sculpture from the University of Kentucky. Kyle is Associate Professor of Art and head of the Ceramics area at the University of Dayton and Kelly is an Associate Professor of Art and head of the Sculpture area at Xavier University, both in Ohio.
---
The 18th San Angelo National Ceramics Competition
April 16 – June 20, 2010
Juror: Sherman Hall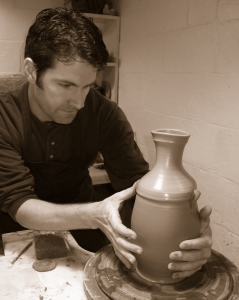 Editor of Ceramics Monthly and Co-Host of CeramicsArtsDaily.org. Hall majored in ceramics in college, graduating with a B.F.A. from Ohio State University in 1996. He ran an independent ceramic studio for several years before being hired as Assistant Editor at Ceramics Monthly, the world's largest ceramic-art magazine, in 1999. Initially, he continued to run his studio as well, but eventually decided to close, since he was not able to devote the time needed. He chose instead to concentrate on supporting the field of studio ceramics from the other side of the studio door. In June 2003 he was promoted to be the editor of Ceramics Monthly.