Homepage
Laura Romer Huckaby named Interim Director of SAMFA
Click here to read the complete press release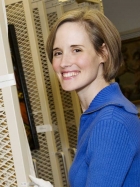 Roof Repair Update:
In addition to the replacement of the copper roof of the main museum, interior repairs and some remodeling are planned. The main museum is closed while this work is going on, but our exhibits and programming continue in the adjacent Oakes Street galleries, Concho Clay Studio, Education studio, and other locations.
Click here to read complete press release
Click here to View Current Exhibits
The mission of the San Angelo Museum of Fine Arts shall be to establish and maintain a museum in order to house and exhibit a permanent collection of art as well as to provide space for traveling exhibitions, for the purpose of the enjoyment and education of the general public in San Angelo, Texas, and the rural communities of the Concho Valley.
Located near the heart of downtown San Angelo and overlooking the beautiful Concho River, the San Angelo Museum of Fine Arts has three spacious galleries two with dramatic 40-foot ceilings, a multi-purpose meeting room that can accommodate up to 300 people. There is also a large rooftop sculpture terrace with a beautiful view of the city. We have a gift shop with unique items and works of art created by regional artists and craftspeople. SAMFA also has a research library with a growing collection of early Texas art resources and many hard-to-find exhibit catalogs which is open to the public by appointment, as well as a lively education wing that is equipped with classrooms and ceramic studios.