Chamber Music Series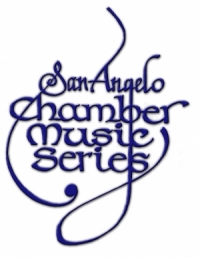 SAN ANGELO CHAMBER MUSIC SERIES features concerts by outstanding musicians from across Texas and the United States and regularly draws patrons from every segment of the community with both traditional chamber musicians and more broadly based contemporary or ethnic music groups. Several local caterers and restaurants will provide refreshments for the concerts. Ensembles perform in an intimate and acoustically wonderful space with all concerts starting at 2:00 p.m. at the Art Museum.
The 2023 Chamber Music Series is supported by funds from the Mayer Family in memory of Joyce Mayer, the San Angelo Cultural Affairs Council, the City of San Angelo.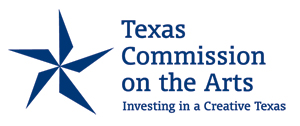 Upcoming Events:
Join us for a special performance of:
The Los Angeles Piano Trio
Featuring:
San Angelo Native Margaret Batjer
with Fabio Bidini and Andrew Shulman.
Get Your Ticket on Eventbrite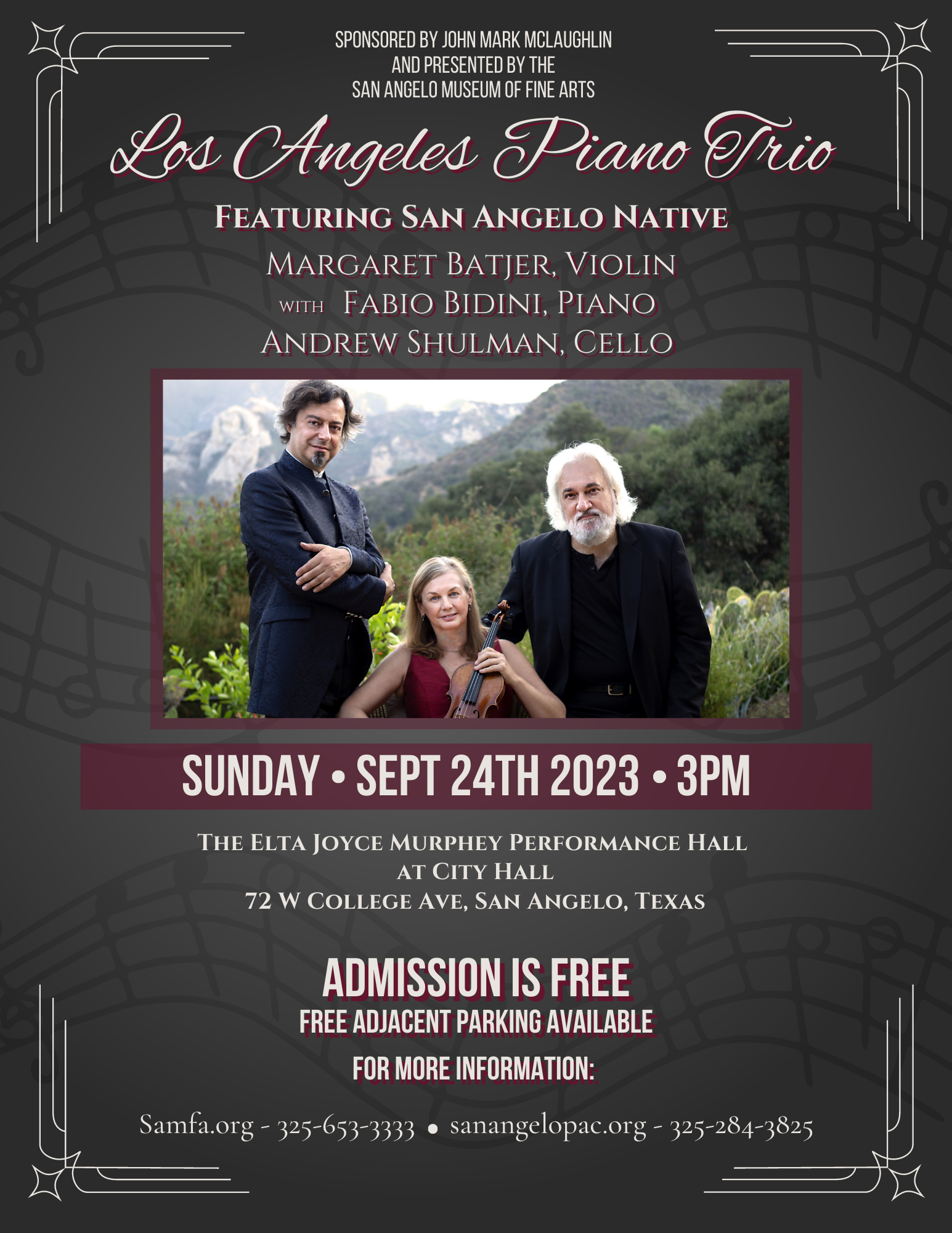 This event is made possible by sponsor John Mark McLaughlin.
The San Angelo Museum of Fine Arts presents the Los Angeles Piano Trio featuring San Angelo native Margaret Batjer, violin, with Fabio Bidini, piano, and Andrew Shulman, cello, on Sunday, September 24th, 2023 at 3PM at the Elta Joyce Murphey Performance Hall at City Hall (72 W. College Ave., San Angelo, TX 76903). Admission and parking are free.
Join violinist Margaret Batjer for a public masterclass at the Eldon Black Recital Hall at Angelo State University from 10 a.m. to 12 p.m. on September 25th, 2023.
The Los Angeles Piano Trio brings a new level of refinement, emotional depth, and artistry to the piano trio repertoire, reflecting the City of Angels' rich cultural legacy, global impact and vibrant energy. Venerated artists and long-time L.A. residents Margaret Batjer, Fabio Bidini, and Andrew Shulman founded the chamber ensemble in 2020, building upon their distinguished international careers as critically acclaimed soloists, chamber musicians, recording artists and pedagogues.
Finding great joy in playing together, which is palpable, the three like-minded musicians embrace the artistic freedom and warmth provided within the structure of the trio, enabling them to express their distinctive musical personalities while creating highly collaborative, inspiring chamber music performances.
They present the core piano trio repertoire of Haydn, Mozart, Beethoven, Brahms and Dvorak and 20th Century gems by Shostakovich, Ravel and others, transporting audiences with their fresh, inventive interpretations, exceptional technical prowess and abiding musical passion.
For our Play It Again Series CLICK HERE
---
Past Performances:
December 4th, 2022
Central high School Jazz Ensemble
Chamber music Concert 2:00pm
Free Concert!
October 30th, 2022
Duo-B Violin/Cello Duo
"Postcards from South America" offers a journey through two iconic musical styles of Brazil and Argentina: choro and tango. The choro originated in Rio de Janeiro in the late 1800s. In a musical environment that was strongly influenced by African rhythms, choro music developed as Brazilian musicians gained exposure to European musical styles, including the polka. The compositional structure usually has three parts played in rondo form (ABACA) with modulating keys. "Choro" means "cry" or "lament," but the rhythms and melodies of the genre are generally vibrant and upbeat, shrugging off life's misfortunes with good humor.
September 25th, 2022
Martin-Meliton Piano Duo Concert
September 25th, 2:00 p.m.
Spanish born duo pianists Elena Martín and José Melitón have been hailed by critics and audiences alike as one of the most compelling talents of their generation. Their touring has taken them around the world, performing at festivals, concert series, master classes, or workshops, original compositions as well as unique two-piano transcriptions by Elena Martín. Their recordings appear regularly on American Record Guide, which says;
"The duo's ensemble is impeccable...dead-on perfect...their music turns my home into a little corner of Spain every time I play it...these are true sound pictures...Albéniz and Falla are among the greatest composers born in Spain, as is Elena Martín...Martín's compositions display far more than excellent craft; she has creativity and originality...Their recordings capture every nuance of this great duo's performances...Martín, the composer, could never hope for better performances of her work."..."Two fine professionals, enjoying themselves, play with strong rhythm and unusual clarity...outlines are clear, passages work precise...they produce a nice, resonant sound...Martín and Melitón know exactly what they are doing."
April 3rd, 2022
ASU Faculty and Friends : Sunday, April 3rd at 2 p.m.
Join us at San Angelo Museum of Fine Arts for an afternoon with faculty musicians. Performers include:
Marc Covey (bass-baritone)
Constance Kelley (flutes)
Tim Bonenfant (clarinets)
John Irish (trumpet)
Trent Shuey (percussion)
Fagner Rocha (violin)
Steven Keniston (piano)
Hunter Mabery (piano)
Our special guest performer is Emilee Hall Rocha (violin), who is the Orchestra Director at Central High School. Music by Frederic Chopin, Monica Houghton, Francis Poulenc, Missy Mazzoli, Philip Rothman, Lera Auerbach, Jean-Baptiste Lully, and Johann Sebastian Bach.
April 1st, 2022
Joshua Diaz In Recital with Adam A Torrez is brought to you by The San Angelo Museum of Fine Arts Chamber Music Series, and Sponsored by Mark Mclaughlin. Admission is free and masks are preferred but optional.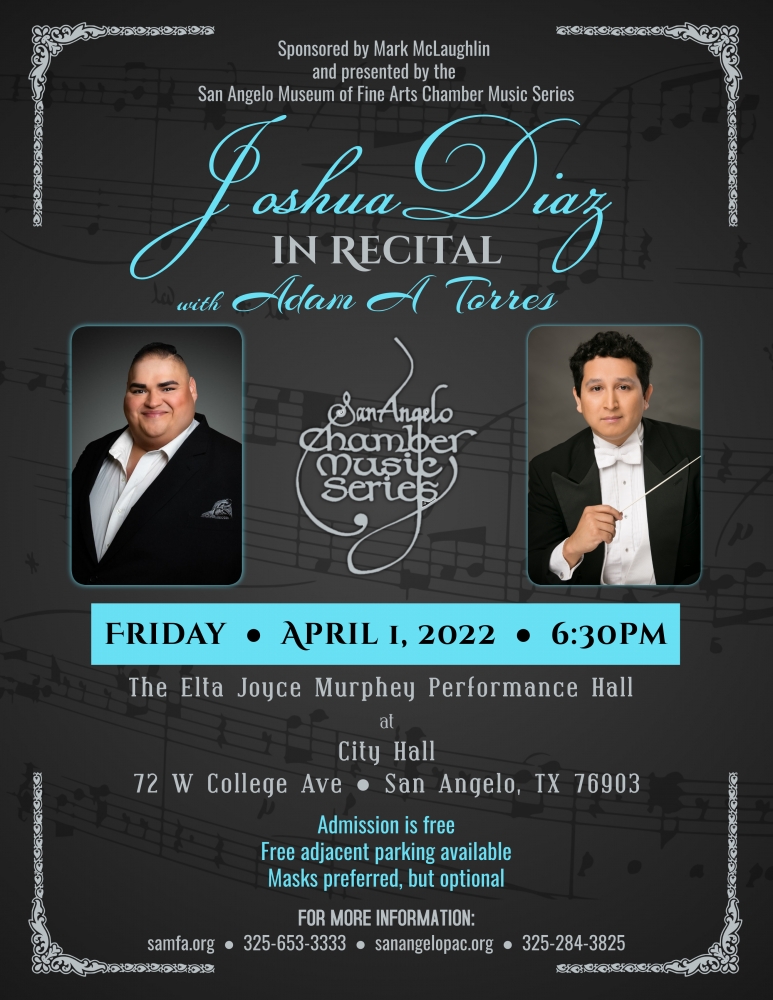 Joshua Diaz
Mexican American tenor Joshua Thomas Diaz is an up-and-coming talent from Texas praised for his "rich and agile voice and sensitive interpretation." He has had success on the operatic stage in the roles of Don José in Carmen, B.F. Pinkerton in Madama Butterfly, the Duke of Mantua in Rigoletto, Judge Danforth in The Crucible, Le Chevalier de la Force in Les Dialogues des Carmélites, Mayor Upford in Albert Herring, the Witch in Hansel and Gretel, Pedrillo in Die Entfürung aus dem Serail, and the role of Male Chorus in The Rape of Lucretia.
On the concert stage, Josh has performed as soloist with the Notre Dame Chamber Orchestra, Peabody Symphony Orchestra, Concert Artists of Baltimore, Symphony Number One, Mississippi Valley Orchestra, Minnesota Philharmonic Orchestra, and Great Noise Ensemble. Highlights of his concert appearances include the tenor solos in Handel's Messiah, Verdi's Messa da Requiem, Beethoven's Symphony No. 9, the chamber version of Das Lied von der Erde by Gustav Mahler, the seldom-programmed tenor soloist in Barber's Knoxville: Summer of 1915, and Britten's Canticle II: Abraham and Isaac.
Josh received his Bachelor's degree from the University of Notre Dame as well as his Master of Music in Voice and the Graduate Performance Diploma in Opera from The Peabody Institute of the Johns Hopkins University. He then went on to Minneapolis/St. Paul to begin working on his Doctorate of Musical Arts in Voice at the University of Minnesota while studying with John De Haan.
Josh is now based in Chicago where he is completing work on his doctoral dissertation which is focused on chamber arrangements of beloved Mariachi music with the eventual goal of using this music to bridge the divide between the Latinx musical traditions and the Western Classical music establishment.
Adam A. Torres
For conductor and pianist Adam A Torres, music offers more than entertainment: it provides insights to the greatest aspects of humanity. Torres' belief in the transformative power of music emanates in everything he does, on the podium, behind a piano, in his private studio, and in lecture halls. His passion and musical expression help him maintain an active profile across the United States and beyond, and his work is heard by tens of thousands of patrons annually.
Recent positions for Torres, a Denver-based artist, include Principal Conductor for Loveland Opera Theatre and Hyperprism Music, and other conducting engagements include work with St. Louis Symphony, Colorado Symphony, Denver Young Artists Orchestra, Fort Collins Symphony, Cheyenne Symphony, Boulder Chamber Orchestra, Cabrillo Festival of Contemporary Music, Chamber Orchestra of the Rockies, and the Colorado Pops Orchestra. Professional opera work includes appearances with Opera Fort Collins, Opera Steamboat, Opera Orvieto (Orvieto, Italy). Adam recently completed a trip to Paris and Köln to apprentice with conductor Cristian Măcelaru, the Orchestre National de France, and WDR Sinfonieorchester. In April, Torres will conduct a concert with the Stratus Chamber Orchestra as a finalist for its next Music Director, and he looks forward to the artistic vibrance of future projects on the horizon.
Advancing the joy of music for students and enthusiasts from diverse backgrounds is a priority for Adam. In addition to serving on the faculty of Colorado State University, he has assisted with community programs such as El Sistema Colorado and served as a clinician in public schools in Colorado and Texas. Other community and student engagement projects include work with ensembles such as the Alpharetta Symphony, Fort Collins' Health and Wellness Orchestra, Bas Bleu Theatre, Colorado State University Orchestra and CSU Opera.
Adam, who grew up in San Angelo, was also fortunate to work with the San Angelo Symphony, the Symphony Chorale, Angelo Civic Theatre, First United Methodist Church, First Presbyterian Church, Sacred Heart Cathedral, and St. Margaret's Catholic Church. A graduate of Angelo State University in Music Education, Torres is proud to have performed with many of ASU's collegiate ensembles, and his reharmonization of the Alma Mater is still used today. For Adam, it is a wonderful opportunity to be back in the town he grew up in to collaborate in this performance at the Stephens Museum of Fine Arts.