Ceramic Workshops
Beginning Thursday afternoon, April 22 (continuing over the weekend):
From 1 pm until 6 pm on Thursday Randy Brodnax will lead participants in a workshop of raku and alternative firing techniques and throwing thin on the wheel. Participants will build and fire the kilns. Work will continue on Friday, and Saturday will be a kiln opening. Participants are encouraged to bring bisque work to glaze and fire. Sign Up At The Door for his workshop.
Saturday, April 24:
The Invited Artists, Ariel Bowman, Brooks Oliver, and Gregory Tegarden, will conduct a day-long (9 am to 3 pm) demonstration workshop, discussing and demonstrating their techniques, materials, and process. Sign Up At The Door
The Randy Brodnax and Invited Artists workshops are hosted by the Old Chicken Farm Art Center.
Please register for the Randy Brodnax and Invited Artist workshops using the links below. Lunch on Saturday is up to you, so plan to bring a sack lunch or patronize one of many local restaurants.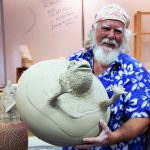 Randy Brodnax - Wheel throwing and raku workshop
Thursday, April 22, 1 pm – 6 pm, continuing Saturday. Old Chicken Farm Art Center
Randy Brodnax, a life-long potter and educator, creates everything from functional dinnerware to large decorative vessels to clay sculpture. A Louisiana native, Randy has retained much of the Cajun joie de vivre with which he was raised, and has spent a career building bridges among clay artists of all levels of experience. In workshops, Randy entertains as he shares his knowledge with participants, and helps individuals seeking a refined focus, new direction, or simply camaraderie among clay artists. He has conducted workshops in every state, as well as Canada and Mexico, for major corporations, small businesses, schools and special interest groups. "It would take countless pages to trace all the activities over the years," Randy states. "It has been fun!"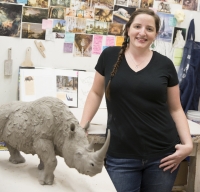 Ariel Bowman - Invited Artist
Ariel Bowman was raised in Dallas, Texas where her parents are both artists.Growing up, she spent a lot of time outside with animals. The undeveloped woodlands that surrounded her childhood home inspired her to create art that focused on the natural world. As a sculptor, Ariel works in clay using a variety of mixed media techniques.
Clay is the most influential material that Ariel has worked with. She earned her Bachelor of Fine Arts degree in ceramics from the Kansas City Art Institute in 2011, and an Masters of Fine Arts degree from the University of Florida in 2018. She has studied abroad at the International Ceramics Studio in Hungary and was awarded the Regina K. Brown NCECA undergraduate and graduate fellowships. Ariel has been an artist in residence at the Armory Art Center and her work has been collected by the Kamm Teapot Foundation, the Belger Arts Center, and the San Angelo Museum of Fine Arts.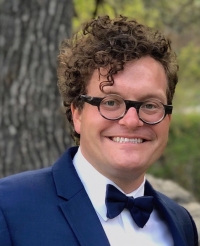 Brooks Oliver - Invited Artist
Brooks Oliver is an Assistant Professor and Program Coordinator of Ceramics at the University of North Texas and a studio artist based out of Denton, Texas. He recently completed a long-term residency at the Archie Bray Foundation in Helena, Montana. He received his MFA from The Pennsylvania State University, his BFA at Southern Methodist University, and completed his post baccalaureate studies at Syracuse University. He taught in Jindezhen, China in 2016 with West Virginia University and regularly teaches workshops in and out of university settings, including at Haystack Mountain School of Crafts and the Anderson Ranch. In 2017 he was named an Emerging Artist by the National Council on Education in the Ceramic Arts (NCECA). He actively exhibits his work and has recently been included in exhibitions at the Dallas Museum of Art, UIlrich Museum of Art, the LacosteKean Gallery, Northern Clay Center, The Archie Bray Foundation, the Artstream Nomadic Gallery, the Dallas Pottery Invitational, the Penland Gallery, Belger Crane Yard, the San Angelo Museum of Fine Arts, and Western Carolina University Fine Art Museum.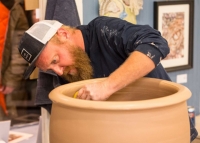 Gregory Tegarden- Invited Artist
Gregory J. Tegarden is a Clayer and an Associate Professor of Art at Sul Ross State University in Alpine, Texas. He received a Masters of Fine Arts in Ceramics from Texas A&M Corpus Christi, and a Bachelors of Science in Botany from Sul Ross State University. He interned with Daniel Johnston for two summers in 2009 and 2010, where he learned a traditional Thai method of coil building/turning large ceramic vessels.
His studio work consists functional ceramics that are influenced by the Chihuahaun Desert, the Southwest, and the austere environment found inside a kiln. All his pieces have some form of local clay or glaze materials embedded in them. Inspired by a love of plants and the desert, Gregory creates work that speak of the environment and geological time found in the landscape around him.