Gift Shop
What You'll Find Here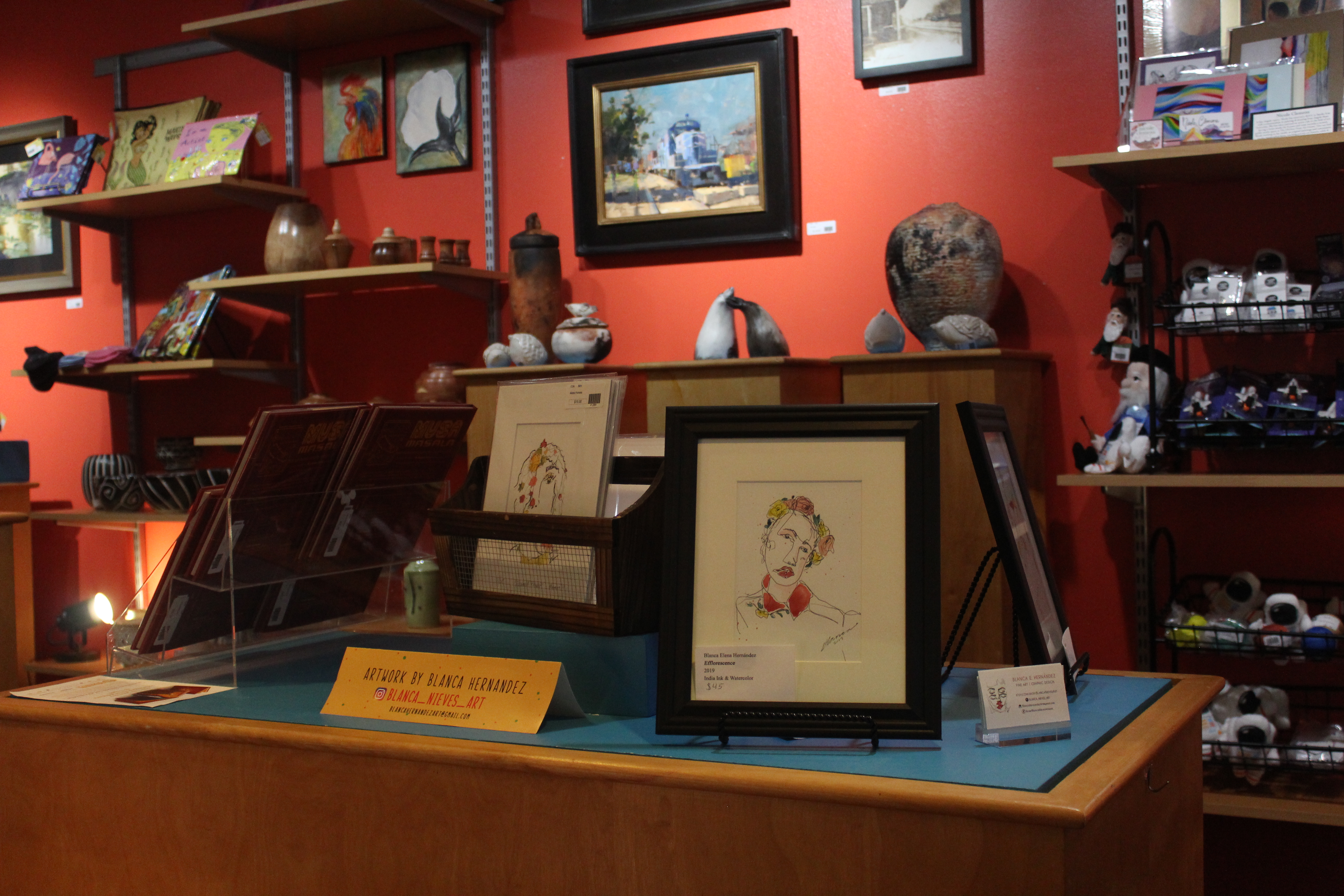 Our Gift Shop not only has an assortment of fun toys, funky socks, bags, coffee mugs, and SAMFA t-shirts, we're also the place to find works by local artists! We have paintings from Wendy Woodring, Ryan T Dalgiesh, and Nicole Clemens; jewelry from Polina Bradham, Vicki Hardin, and Claudia Cravens; hand painted note cards by Barbara Barnhart Rallo and Blanca Hernandez; as well as ceramics by Esteban Apodaca. We also offer ceramic pieces, books, and DVDs by renowned potter, Otto Heino. Don't miss the works of these talented local artists!
The SAMFA Gift Shop offers a wide variety of gifts for all occasions and all ages. Merchandise changes frequently, so don't miss out!
Featured Artist
SAMFA's Gift Shop Featured Artist for February is Wendy Woodring.
Meet the Artist! Wendy will be in the SAMFA Gift Shop from 1-4 on Sunday, February 16th!
Wendy Woodring has a degree in Industrial Design, but painting is her passion. The technical skills obtained from studying Industrial Design have helped her with her art.
She has had 20 solo exhibitions of her artwork, and has participated in an additional 16 group exhibitions. She has been teaching art for about 8 years, as a professor in a University in Monterrey, and as an instructor for casual painting classes.
Wendy is very active in the San Angelo art community, participating in several local events, such as: the Stribling Art Extravaganza, Open Arms exhibit benefitting the Rape Crisis Center, Raw 1899, Hispanic Heritage celebration at the Railway Museum, Downtown Stroll, Angelo State University (ASU), HEB, HOSA Hospice of San Angelo, Tom Green County Library, Galeria Verde with Colores Latinos, LYNDALE Senior Living, Goodfellow Air Force Base, Kendall Art Gallery, etc.
Canvas is her ideal medium for inspiration and the creation of imaginary thought. She uses acrylic, which is one of her favorite mediums, but she also enjoys working with oils, pastels, and more.
Wendy enjoys teaching and sharing the knowledge of painting and design with her students and customers.
She is currently developing her business of painting classes, graphic design, art therapy and body art.