Current Exhibits
December 9, 2021 – March 20, 2022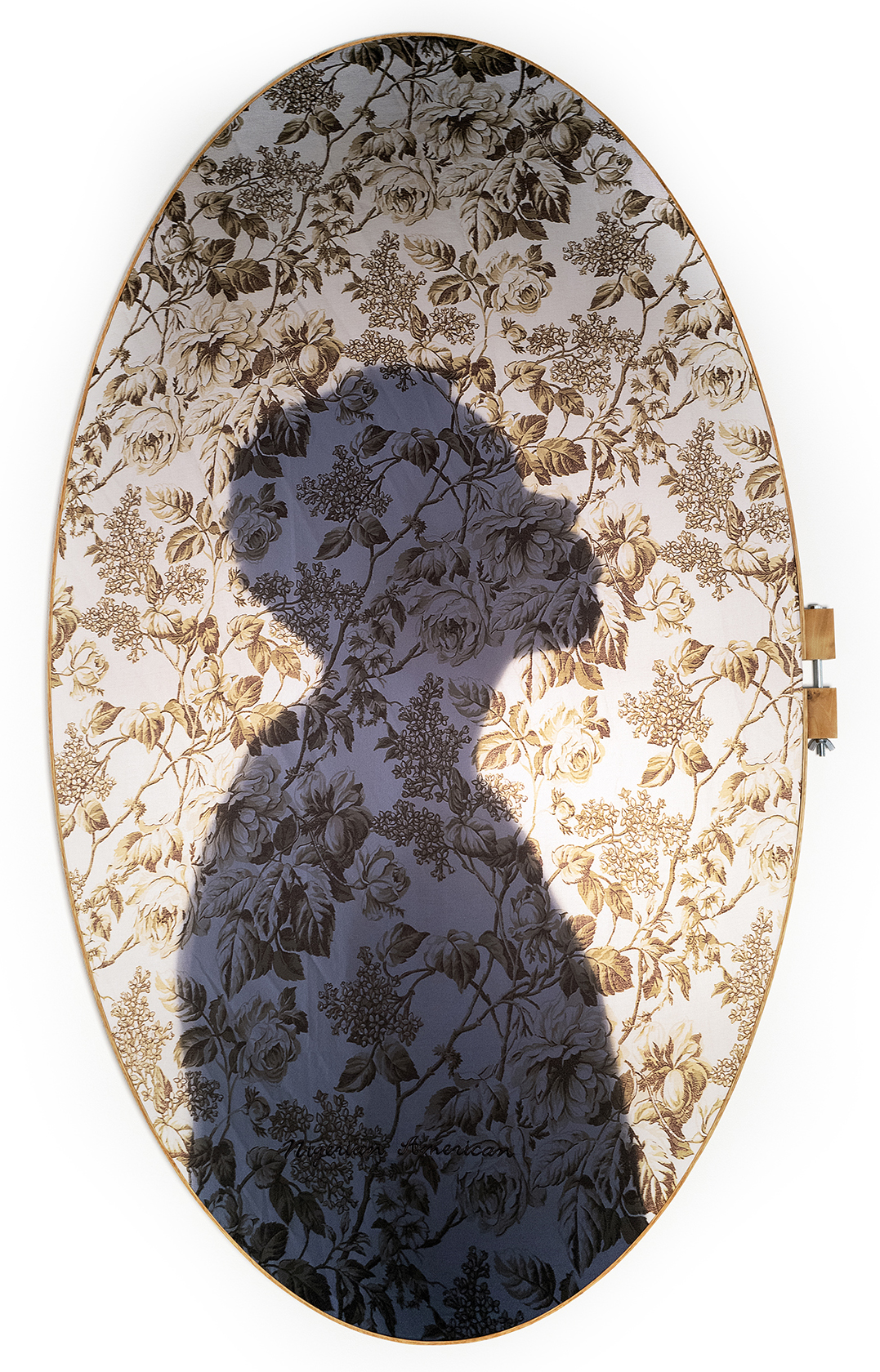 A Glimpse of Glory
An exhibit of paintings, works on paper, and multimedia works by a dynamic pair, Sedrick & Letitia Huckaby of Fort Worth, who draw from family, heritage, and faith to create their rich body of work.
Letitia Huckaby
Dubem
2020, pigment print on fabric with embroidery
70 x 40 x 2 inches
From the series "And Thy Neighb(our)."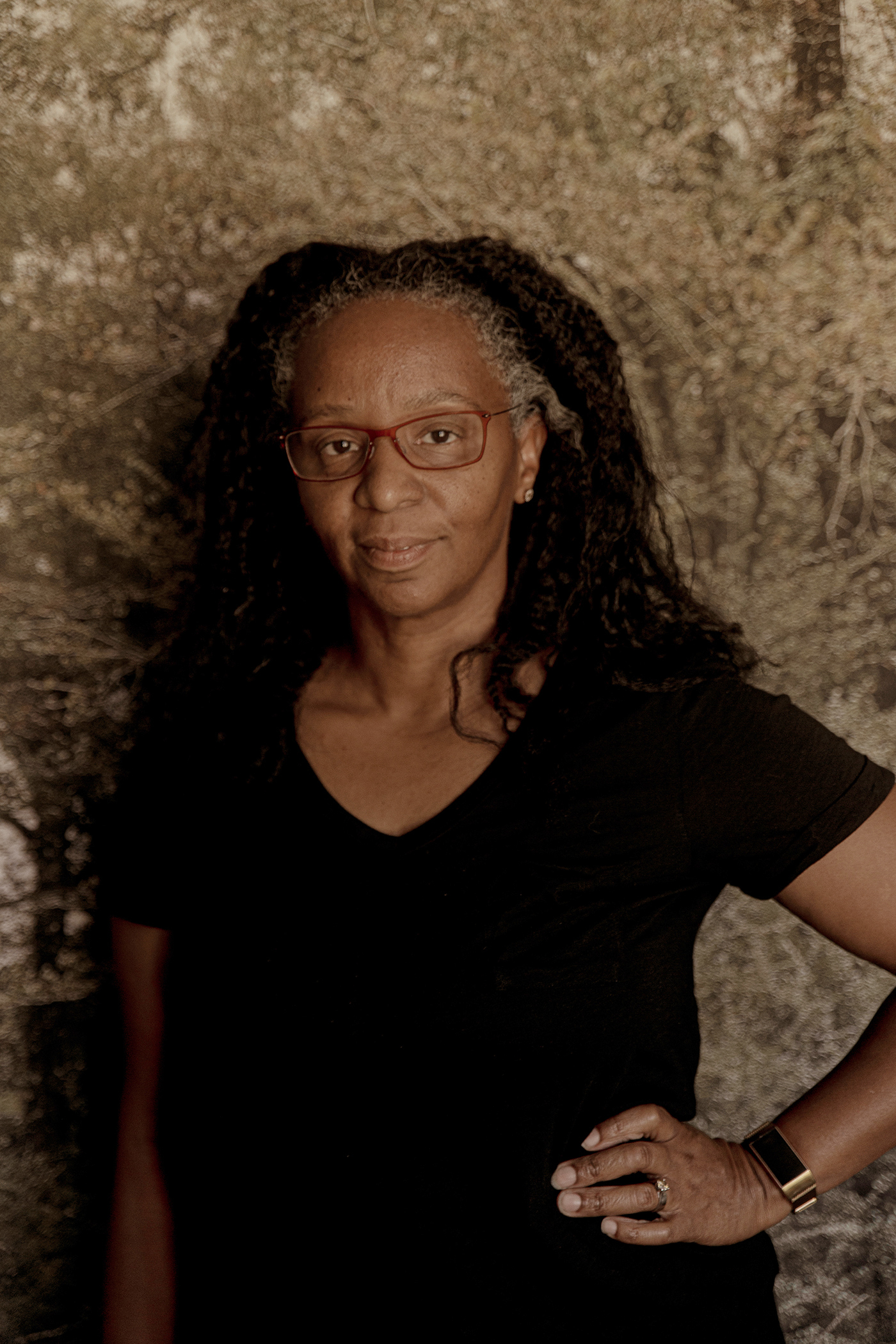 Letitia Huckaby describes herself as a photographer at heart who loves "pushing the boundaries of photography, using a traditional practice in an untraditional way and hopefully creating a new visual language." Her works often incorporate heirloom fabrics and embroidery hoops, calling to mind family legacies and traditions passed down. The works in the show are from two recent series: Beautiful Blackness and And Thy Neighb(our). She describes Beautiful Blackness as an "elegy for a lost promised land," which traces the steps of the Exodusters (African Americans who migrated from states along the Mississippi River to Kansas and Oklahoma in the late nineteenth century) and also explores the remains of Freeman's towns across the south. The large-scale silhouettes from the And Thy Neighb(our) series are portraits of individuals who describe themselves as refugees or immigrants from countries with majority Black populations, and Huckaby gives the works the feel of old family portraits that invite us to contemplate her subjects' lives and stories and our relationship to each of them.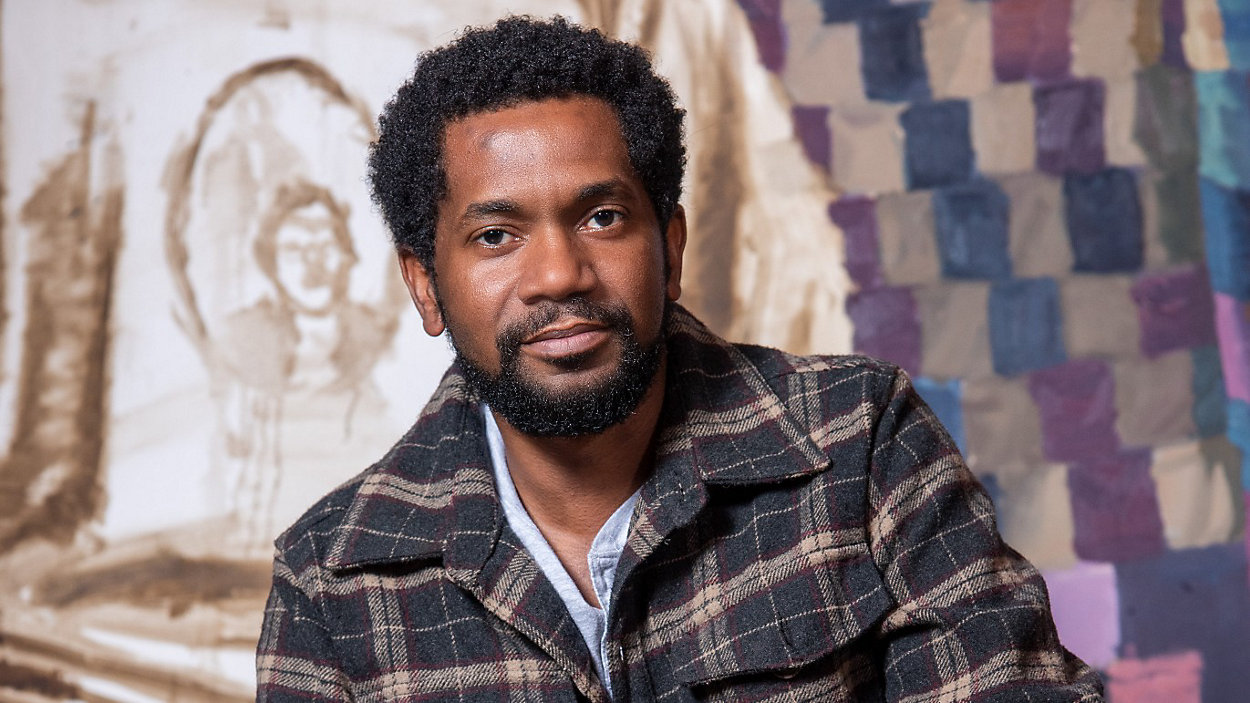 Sedrick Huckaby is a renowned painter whose two favorite subjects are quilts and people. To some he is best known as the portraitist who taught George W. Bush how to paint, to others he is the artist who paints gigantic pictures of quilts that take up entire walls. To him, the subjects are tied together. "My goal," he says, "is to show that the whole world is a patchwork quilt, one large community of mankind." He began painting his grandmother's quilts as backgrounds for portraits but they soon became more central. The largest work in the exhibit is an 18-foot tall oil painting of four quilts, and SAMFA staff had to remove the a section of the gallery's light track in order to install it. The painting, "Hidden in Plain Site: Map to the City of Peace," has only been exhibited once before, at the Amon Carter museum in Fort Worth. Inspired by historical quilts that told stories, or contained hidden messages and maps, "Hidden in Plain Site" invites us to look more closely at the seemingly abstract patterns in the painting and find what images and messages might be hidden there. "As an artist," Huckaby says, "I try to use the quilts as inspiration and language, passing down the old values to newer generations. I constantly decode and reinvent the language in order to communicate to different audiences."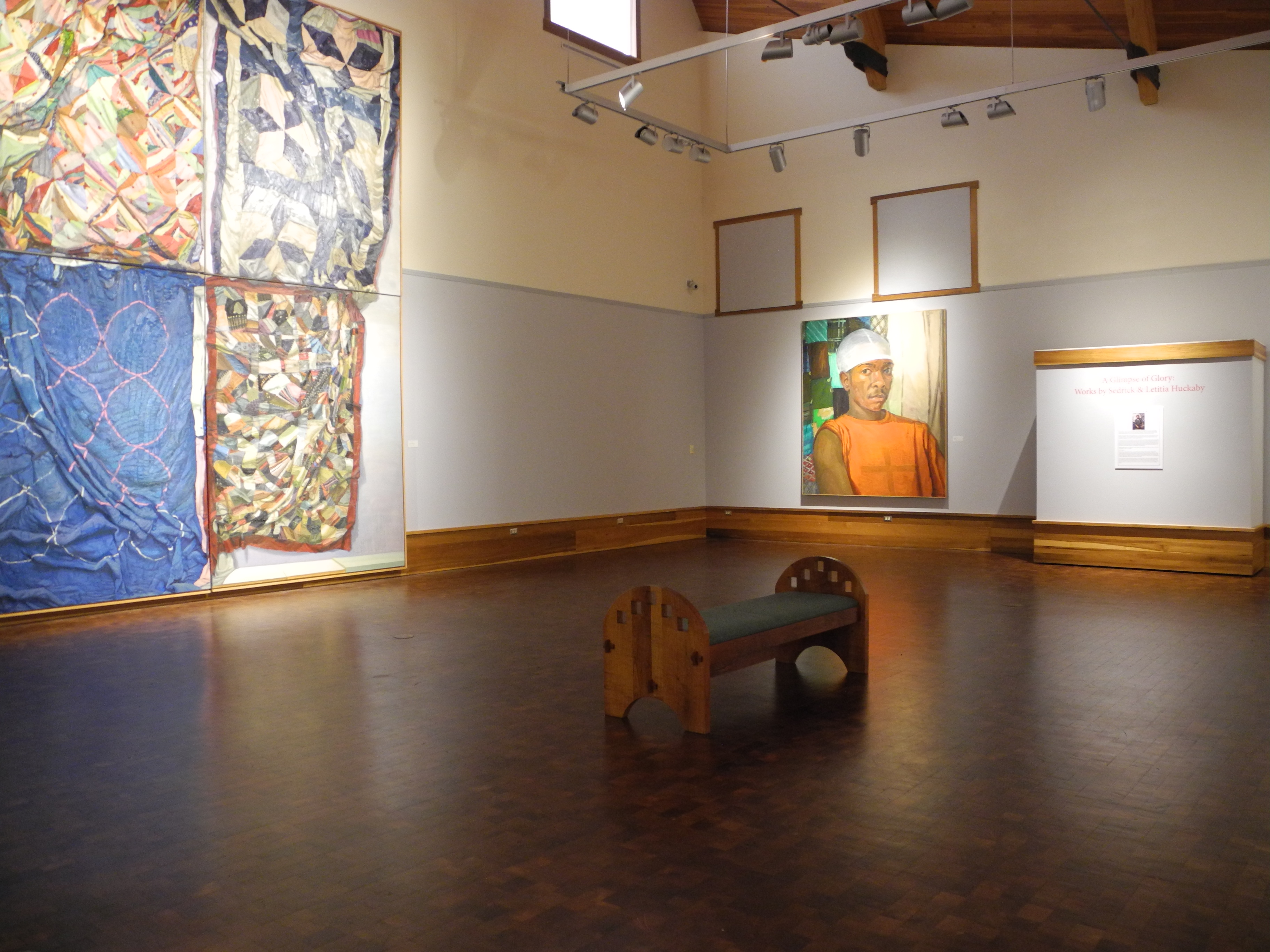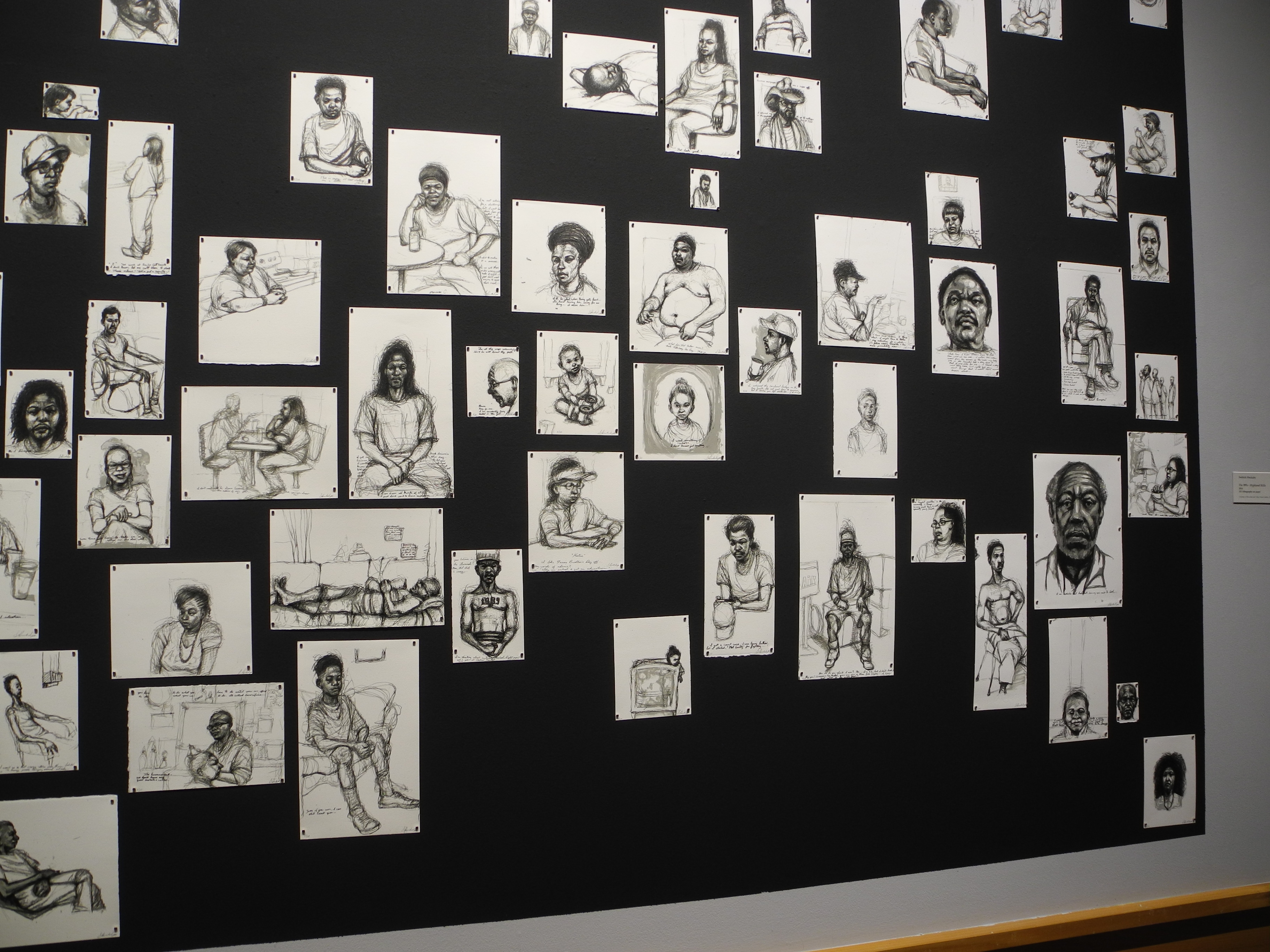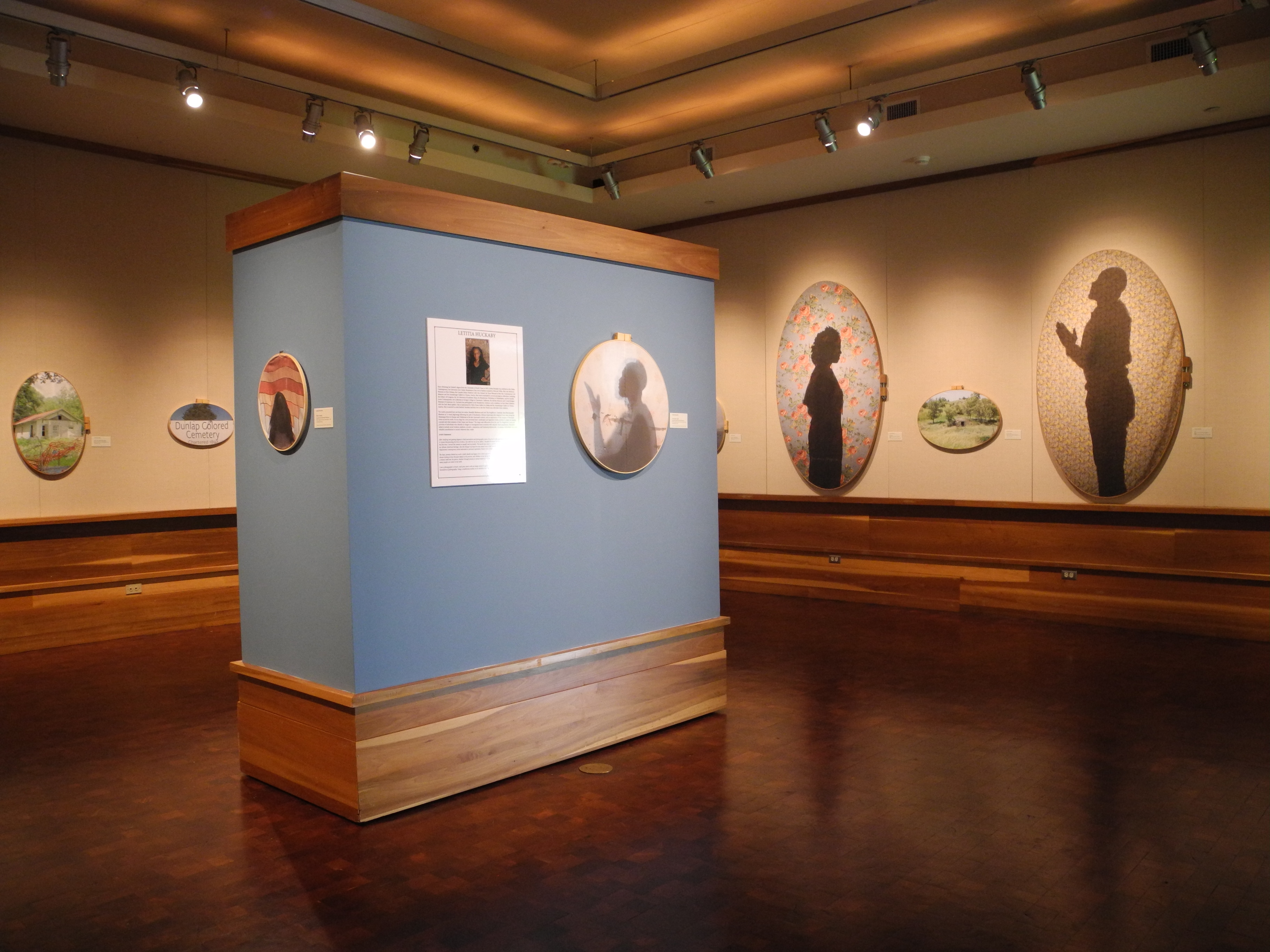 September 24, 2021 – March 20, 2022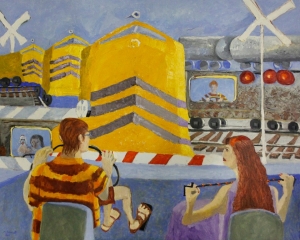 Majesty and Tenderness: The Art of Maurice Schmidt
A rich exhibit of paintings and works on paper by a skilled and prolific South Texas artist whose vivid colors and expressive portrayals of both daily life and religious subjects simultaneously charm and awe the viewer. SAMFA is pleased to introduce Schmidt's work to San Angelo, especially because this collection of Schmidt's work, which was created over the course of his long career, will be gifted by the artist and his wife to the museum following the exhibit.
Pictured: Waiting on the Train in Kingsville, TX by Maurice Schmidt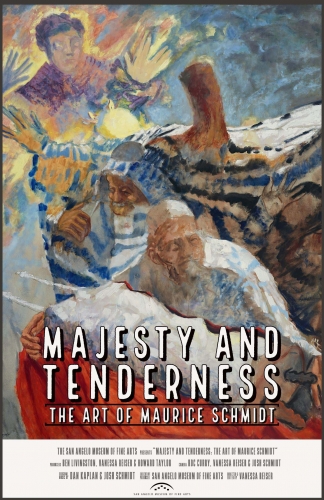 Click HERE to watch the film by Vanessa Reiser and Ben Livingston, made to accompany the SAMFA exhibit.
"Majesty and Tenderness: The Art of Maurice Schmidt" is a rare glimpse into the genius of a very unusual Texas artist who finds the majesty of beauty in everything. His artistic vision of over seventy prolific years, peers through a unique lens of Judaism, claiming that over decades of study, he has become "one with the Torah." As an articulate academician, Maurice Schmidt candidly describes how his spiritual interpretations become a congruent mastery of beautiful craftsmanship and pure visceral expression that plays out seamlessly through his powerfully dynamic portrayals of daily life, agricultural landscapes and religious subjects.
October 2021 - October 2023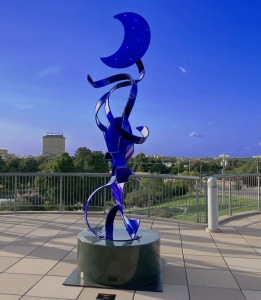 The 7th Biennial Salmon Sculpture Competition in Memory of Pam Salmon
The Salmon Sculpture Competition, a juried exhibition of outdoor sculpture, is a biennial exhibit of 12-15 large-scale sculptures in Sunken Garden Park, City of San Angelo. The exhibit is hosted by the San Angelo Museum of Fine Arts, in cooperation with the City of San Angelo Public Art Commission and the City government. Sunken Garden Park (700 Block S. Abe Street/W. Avenue D) includes a formal sunken garden area where, spring through fall, canna and other flower displays are featured.
Michelle O'Michael
Houston, TX
Moon River
Steel and resin
For Information about the 2019 Sculpture Competition CLICK HERE
Click here for Upcoming Exhibits Click here for Past Exhibits
Special Loan Exhibit at the Official Residence of the European Union's Ambassador to the United States, Washington, D.C.

Ceramics and paintings from the SAMFA Collection on display in the Ambassador's home.